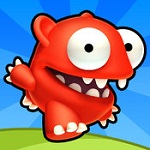 Yo ho ho fellow buccaneers! I'm back from yet another swashbucklin' adventure, and here to share with you my latest app finds. And guess what? I'm not the only one who went on an adventure this time. Guess who did, too? Our googly-eyed, orange, little monster friend from Mega Jump – Redford (And don't ask me why he's orange when he's named Redford!). In the sequel to the popular endless game Mega Jump comes the all-new game Mega Run.
This time, what we have is an adventure game, and the adventure begins when Redford's brother and sister were kidnapped by a mysterious monster and taken far, far away.  Where were they taken? That's why we're here to find out.
Let the Swashbucklin' Adventure Begin!
Basically, the objective of the game is to save Redford's brother and sister in this adventure game. Unlike Mega Jump, which poses endless hours of gaming, this app is divided into 4 unique gaming worlds with 64 stages. Just like the first game, you'll encounter coins to collect and unlock-able power-ups.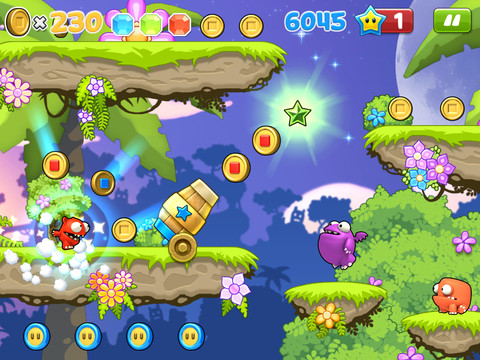 The power-ups include coin magnets, growth potions, ice shots to freeze your enemies, and fireballs. You can also play as one of Redford's other googly-eyed friends, just like in the original game.
The Challenge
While the basic game play strongly resembles that of Super Mario, which was very popular in the 80's and 90's, the game poses quite a challenge.  In Super Mario, after playing the game over and over again, you get to familiarize yourself with the different levels and the obstacles you have to go through, therefore increasing your chance of succeeding each time you play. After several attempts at the game, you'll know that the mushroom is hidden in this box, Koopa will appear at this time, a poisonous flower pops-up from this box, there's a hidden short cut when you enter this tunnel, etc.
In this app, the levels are made up of interchangeable sections, so even if each level has the same segments, you won't always find them in the same order.  To add to the challenge, you won't always find the power-ups in exactly the same spot.  This keeps the game fun, interesting, and fresh every single time you play. While Super Mario provides that certain level of comfort, because you can memorize things every step of the way, what's the point of playing a game over and over again, if there's nothing new to discover each time, right? After all, a true pirate seeks for endless discoveries and adventures.
Eye-Popping Booty
In terms of graphic design, this app is at par with its predecessor, Mega Jump. The 3D graphics continue to please, amaze, and keep them gamers coming for more. Most gaming elements are still similar to Mega Jump, but everything has been freshened up so that you have something new to look forward to.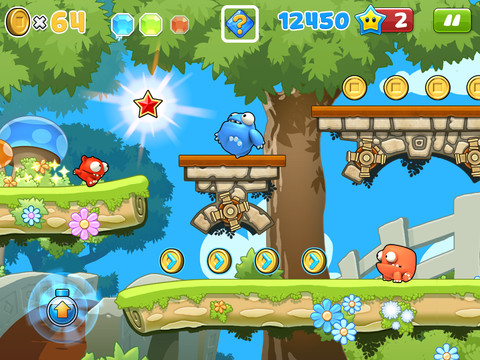 The different levels look really good and fresh, so when I'm not out on the sea, I still get to have an adventure on my very own mobile device. Each level takes you to a new place that's definitely worth taking the time out to explore.
The Final Verdict from Yer Friendly App Pirate
Me says this app is definitely worth a try. It's got adventure, excellent 3D graphics, fresh game play each time, and just like it's predecessor, it's absolutely free! And personally, I happen to like this Mega Jump sequel, because I feel that I have a better chance of succeeding in this game. Unlike Mega Jump's endless game play, wherein the only shark bait is yourself (or the scoreboard leaders at Open Feint and Game Center), I feel that I've accomplished more in this game, because there's an actual objective to be met. So if you're the app pirate who loves adventures like I do, this game is definitely worth a try.
Lastly, before I forget, this app is also on Open Feint and Game Center, if you're feeling extra competitive. Good luck lads and lassies! Till our next adventure!