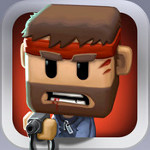 Ahoy there mateys! It's me again, your ever-reliable app pirate giving you my latest review while I'm on board the Jolly Roger.
Being a pirate like me calls for adventures involving wrestling with sea monsters, and yes, even other pirates like me.  And if there's one word to describe how bad things can get, it would be: gory. But things aren't just gory when it comes to my real life adventures, the gore extends all the way into my iPhone thanks to this new app I discovered, Minigore.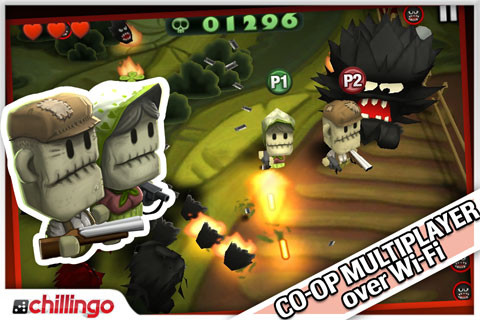 Let's Do this for the Gory!
The app is basically an arcade shooter game, starring John Gore.  In this game, you have to help him survive the attack of the furries in the dark wilderness of Hardland.
The game is fairly simple.  All you have to do is shoot the furries (aka your enemies) and avoid being hurt by them.  There are no levels to progress to.  All you need to do is kill your enemies and avoid being killed by them.  To make the game more exciting, there are different weapons to level up to, and power-ups at your disposal.  There are also 19 characters to unlock, though sadly, some of them will require an in-app purchase.
The Good and the Gory
One major highlight of the game, in my opinion, would be the graphics. The graphics are quite cartoony, but at the same time neat. The colors are vibrant and the details are just right. In fact, it's not at all gory, which isn't a bad thing.  After all, how much gore does a pirate like me see every day? The graphics strikes a balance between being exciting, but at the same time, easy on the eyes.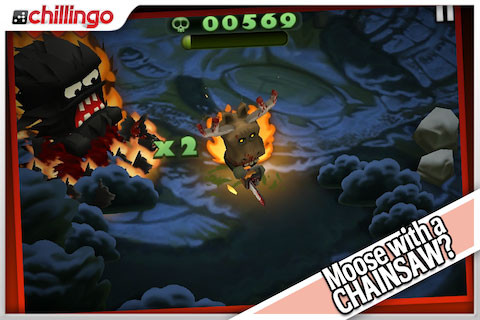 If you're the type to enjoy shooting games, this one is worth trying. Just note that it's not entirely a shooting game, wherein you just aim and fire. The app requires you to move around, too, to look for enemies to shoot, and at the same time, hide from them.
Let's Score This Thingi'
Controls are fairly easy to manage, since the controls involve moving around and shooting your enemies only. One thing that might turn gamers off would be the lack of progression, because the game solely requires that you shoot your enemies and avoid being killed by them. You don't move on to another level at all, but you do get power-ups and other weapons along the way, to keep the game exciting.  Perhaps the challenge here would be outdoing your personal score, or if you're extra competitive, you can compete against the scores of other players on the Game Center leader board.
If you're looking for more of a challenge, you can aim to unlock the other characters in the game.  These can be unlocked by achieving a certain number of kills.  Sadly though, some characters will require an in-app purchase.  Don't worry though; most of the characters can be unlocked depending on the number of kills you've achieved.
If you're just looking for a game to play to pass the time or a game that will make you go into zombie mode for several hours, then this game is for you. It's also perfect for when you've had a rough day and you need some sort of outlet, like angsty pirates like me. Arrrr! You need not be turned off by the game's lack of progression, because once you've started playing the game, it gets more and more addicting.  The different furries that will come your way are also fun to see, and unlocking new characters gives quite a sense of achievement.