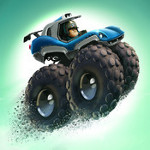 Ahoy, matey! It's me again, your favorite pirate app bringing you another great game to play on ye gadgets. For this review, we'll talk about a game that every lad (and tough lassies) would love to play.
Once in a while, I and the other buccaneers take a short break off our treasure hunt. Ye may not believe it, but we also go to the city and dress up like ye folks out there. When I'm on land, one of the best things that I love to do is car racing. I miss it when I'm sailing on the sea. Good thing Motoheroz was released for iPhone, iPod and iPad users. It's an exciting car racing game that makes me feel the rush that I feel when I'm car racing on land. If you're into this type of game, this one is a must try. Avast ye! Here's more information about this amazing game.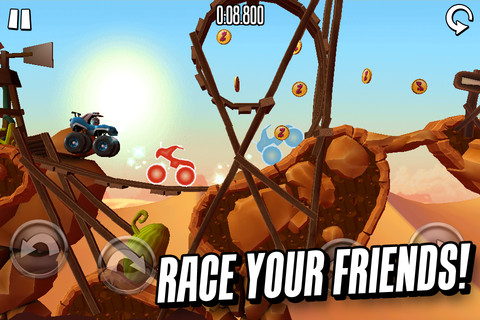 The Game Play
Your goal is to get to the finish line on a limited time. There are three game modes to choose from. The first one is the single player story mode in which you need to race against the time to make it to the end of the track. There are 6 worlds to complete, each world with five levels to clear. The 6 worlds have varying environment making the game even more exciting. There are certain numbers of stars you need to earn for each level before you can advance to the next one. If ye were not able to earn the needed stars, blimey! Ye need to replay the stage to move to the next level.
Aside from stars, there are coins, power ups and booties to collect along the tracks. The coins can be used for upgrading your monster trucks to make it more powerful. Using ye coins, you may upgrade the item boost, speed and acceleration of ye car. The item boost will make the effect of the power ups stronger. Some of the power ups that you can get are speed booster to make you move faster, jetpacks allowing your car to fly and springs to make your vehicle jump higher.
Another mode is the local multiplayer mode that lets ye play with three other lads and lassies. All me mateys on the ship have the game installed on their gadgets. We always play the game and guess who always win? Me! I get to wave the Jolly Roger for my victory against these buckos. Another game mode is the online competition. Everyday, a new track is made available for all players who would like to compete for the online leader board. Yo ho ho! I'm on top of the list.
There are forward and back button that you can tap to make your monster truck move back and forth. There are other two buttons that will allow you to make a counter clockwise or clockwise turn. It's challenging to complete the levels as the race tracks have loops that you need to pass through to make it to the end.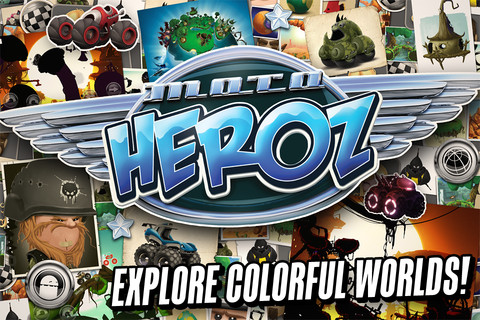 Furthermore, aside from making it to the end of the race track, there are specific goals that you need to achieve on each level to earn more stars. There are 6 different vehicles to use, though the other trucks can only be unlocked upon reaching specific levels. This will make you want to complete each stage even more. Or ye may use your booties to make in app purchase for getting the upgrades earlier.
The Good
The different backgrounds of the 6 worlds and the cool designs of trucks will make your eyes pop. The graphics are crisp with vivid colors making it more enticing to play the game. Though there are only few levels on each world, they are challenging to play letting ye come out with your A game. It also lets you make great moves like flipping the truck mid air. Shiver me timbers! I once miscalculated my flip and had to repeat the same level.
The Bad
When a dialogue is included at the beginning of the stage, it will be played back everytime you repeat that level. It's like listening to my parrot friend here that keeps repeating every word it hears. They could have skipped the dialogue part for the retries of the stage. Furthermore, a message to make an in app purchase pops-up everytime ye try to upgrade or buy something but have not enough coins. They could have been disabled until you have enough booties to buy them.