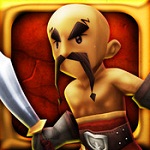 Sometimes, a pirate like me gets tired of the good ol' adventure of swashbucklin', stealing booty, and fighting them sharks and other sea creatures. Sometimes, I wish I was some sword swingin' bloke, a skilled archer, or a magician who can conjure spells. While I suppose I will always and forever be a pirate, thank heavens for them role-playing games that allow me to be someone else for a few hours.
One such game that allows me to escape from the reality of me pirate life is Pocket RPG -a game of monsters, dungeons, stealing different kinds of treasures, and having different options as to which character I'd like to be.
Let the Adventure Begin!
The adventure begins by asking you to choose one of three characters: The Blade Master, The Dark Ranger, and The Battle Mage. The Blade Master, as you may have guessed it, is a sword-swinging specialist. He relies heavily on killing his enemies with mighty strikes of his sword. The Dark Ranger has command of his bow and arrow, truly a skilled archer. He can send waves of his arrows to bounce, seek, and split the enemies.
The Battle Mage is the only female of the three characters.  The Battle Mage is seemingly weak and fragile, like the mermaids I've seen on the sea, but don't be fooled.  The Battle Mage is a powerful magician who summons the forces of nature fire, air, ice, and lightning to kill groups of enemies. Note that the adventure begins not after you choose your character, but as you choose your character, because each character poses a different gaming experience.
After you've chosen your character, you are lead to a deep dark dungeon, to take you to your loot-finding, beast-killing adventure.  In a nutshell, the objective of the game is to collect your booty, gain power-ups, and move on to the next dungeon for your next quest. Controls are quite simple -the left stick is for movement, while the right stick is for combat. The release of weapons for combat will vary depending on the character you choose, but they are quite easy to remember, and controls are highly intuitive.
The Gameplay

One key feature of this game is its progression from one quest to the next which is unlike most role-playing games.  In most role-playing games, your progress is saved and carried over to the next quest, but it does not work the same way for this one.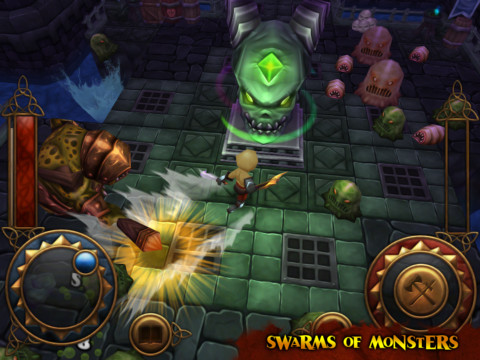 Any progress made in one quest, like loot, power-ups, and money are not carried over to the next one. Blimey! What kind of game is this? Now before you go swishing your sword and firing your cannonballs, don't be turned off by this.  It only means that you'll have to make smart, strategic choices, in order to move on to your next adventure.  Personally, if you ask me, this kind of gaming would be perfect for beginners in the world of RPG games, because not much pressure is placed on you when playing.  What's important is you get through one quest, learn from it, and move on to the next one.
One thing that's quite tricky about this game, and should be improved in further updates is the fact that there's only one saving slot for the entire game, which means that should you decide to try out a different character on a new quest, the progress from your previous character is completely erased.  Now there's a solution to this one.  The game saves your latest progress from each character and nothing is over-written so there's no need to worry.  But again, it's something that should be worked on in future updates to avoid potential confusion (and frustration) from me and my mateys.
The Verdict
The downside to this game is that this booty ain't free. The app is $4.99, but there's a lite version. Of course if you're into the full adventure, then why not give the game a try?