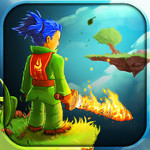 Ahoy there lads and lassies! It's me, your one and only app pirate bringing you my latest app treasure finds. Today I dove deep below Davey Jones's locker to bring you an app that a pirate like me will truly enjoy.
It's sword-slashing, sword-swishing adventure. Superb 3D graphics that take you to astoundingly beautiful and mystical sites. These are what you can expect, and more from my latest booty from under the sea -Swordigo. The adventure may be on land, but this is definitely something that a pirate like me will enjoy. After all, every once in a while, a pirate like me would like an on-ground adventure, instead of the usual Swashbucklin' one.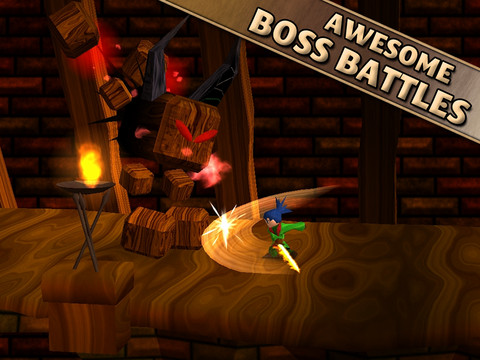 The Game Play
In this adventure game, you play as a character that runs, jumps, and swings his sword to fight your way through a magical world on a crusade against corruption.  You get to go on a great adventure that will allow you to explore magical worlds filled with dungeons, towns, treasures, and of course your enemies -monsters.  Like most adventure games, your exploration leads you to gain more experience, more enemies and more power-ups.
At first, you're equipped with just your sword and a jump button. You might feel a bit limited, but don't worry. Eventually you'll gain power-ups and magic spells will be at your disposal. To be exact, there are four magic spells at your disposal. Three of them can be used to defeat your enemies, and all four of them can be used to interact with environmental elements. There are boss fights at every level. You'll also be faced with different kinds of challenges in every new place you land in.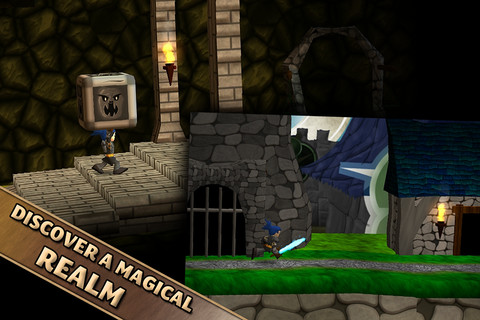 Sights and Sounds
The game has good 3D graphics. The designs are sleek and at the same time colorful and vibrant. There is enough attention to detail on the graphics, and there really is an effort to make each world different from the other. The graphics definitely give an adventurous vibe that will get you excited about the game.
The soundtrack is good, though quite generic-sounding. It's what you would expect from any adventure game. In terms of mood and tone, the soundtrack does the job of giving that feeling of adventure.
The Good and the Bad
Overall, the game is thoroughly enjoyable. The game play is typical of any adventure game, but the boss encounters and the challenges in every new place you land in gives the game a feeling of excitement. Character customization options also become available as you progress in the game, which is something to look forward to. What sets this game apart from others would be 2 things: the controls and the 3D graphics.
The controls are simple, highly responsive, and flawless, unlike most adventure games with controls that don't respond well and are difficult to master. Here, your left thumb controls your character's movements, while your right thumb is for hacking, slashing, jumping, and casting spells. The game also allows for customization of the controls to make controlling your character even more flawlessly.
The 3D graphics are superb. Graphics are rendered in sharp, crisp details. To add, the graphics are rendered colorfully and vibrantly. Graphics are as important as game play is in a game because the graphics will help set the mood and tone, and the visuals will help encourage or discourage you to continue playing a game. As far as getting you hooked is concerned, the graphics do a pretty good job at it.
As for the bad, there's honestly nothing bad I can say about the game. It's truly enjoyable, addicting, and well-made. Oh okay, maybe the fact that it isn't free is a bad thing. But $2.99 is worth every penny for a game this good.