Yo, ho, ho, and a bottle of rum! Ahoy there me hearties! Here's yer app pirate ready to go on another adventure with me parrot pet and the crew. We are excited to check out this new location that might have many hidden treasures. Don't worry ye lads and lasses because 'afore we leave and sail, I'll write another app review for ye. For this review, I will share with ye an app called 3 Grams Digital Scales. Batten down the hatches and let's begin.
Dark interface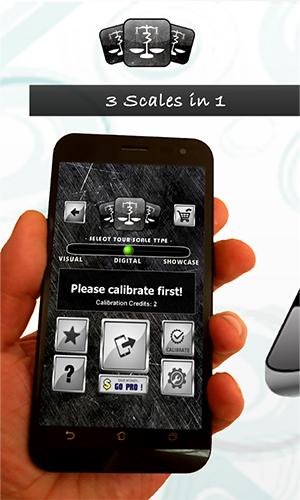 The overall interface of the app is dark. The background is black and the icons are gray. While you can see the words properly, the color makes it look dull. The main purpose of this application may be to weigh objects and the way it looks doesn't have anything to do with that purpose, but using something that is more appealing is a plus. It could do some additional colors just so it would look livelier.
It's Handy
Carrying an actual weighing scale can be an inconvenience. This app is handy because you can use your phone to weigh things. There is no other equipment needed, except an object that you will use for calibration. You should know the weight of this object to ensure proper calibration. It also comes with help information and how-to video for guide.
Calibration takes practice
The app is not easy to calibrate, especially if it's your first time. It requires finding the right balance and tilt of the phone for better accuracy. As mentioned, you should also use an object, which weight you know in advance, for calibration. Moreover, calibration requires credit. So, each time you calibrate, a credit will be taken from you. While, there are free credits given when you first install the app, you need to purchase using real money when you run out of it.
Free but with ads
3 Grams Digital Scales is free to download. However, as you would expect, there are advertisements on the app interface. While they do not literally appear over the buttons or options, there are ads on top and at the bottom of the screen and you may accidentally hit on them. There is an option to remove the ads, but it will also require you to pay.
The good
This app is handy for weighing as you will only need your phone. No need to carry a huge and heavy weighing scale around. It has a how-to video and help information to serve as guides on its use.
The bad
Every calibration requires credit. It is also not the easiest to calibrate. It takes practice to get used to the calibration. Accuracy also depends on the balance or tilt of the device. Plus, you need to be careful where to place the object being weighed to get the correct weight.
The verdict 3 Grams Digital Scales is a handy app that you can use if you need to weigh something but you do not have access to an actual weighing scale. Calibration may be a challenge at first and accuracy may not be 100% all the time, but it does the job and the weigh is close to the actual weight of the object if used properly.