Ahoy there mateys! 'Tis I, your friendly neighborhood app pirate and I've got quite the treat for you today! There are many things that hide in me chest of hidden booty, so sometimes I lose track of new games that come out for my smart phone. This is why I and my crew have started to scour the app store once more for new trinkets and treasures that are sure to put a smile on your face. So if you're a fan of music and want to test your knowledge, here be 4 Pics 1 Song.
Simple but Addictive Gameplay
Like its predecessor, 4 Pics 1 Song is a very simple game. On each level, you are presented a different number of puzzles and the only way to score is to guess the right word. This is done through the use of 4 different pictures that act as your clues. The pictures themselves are always somewhat related to each other but sometimes guessing the word in question can be a challenge. In this title, you're not simply going to guess the word on the screen.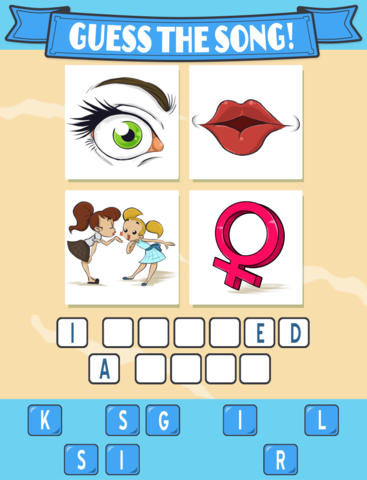 Instead, you have to look at the pictures and figure out the lyrics of those songs. After that, it's up to you to find out what the name of the song is. Guessing the song involves you going through the right letters to form the word itself, so the number of guesses you get are limited.
This game is really designed for music buffs that love to look around for new and old artists. The questions range from very simple to very complex and can often be harder to guess than you think. Couple that with at least 41 levels with 16 questions each and you get a title that will surely last you a while. Of course, this game also has an online leaderboard, which helps you gauge just how good you are at guessing the titles of songs you like.
Pretty Pictures and Smooth Interfaces
One of the best qualities of this game is that it has a lot of pictures to illustrate the song you're trying to guess. They're all pretty and serve very well as placeholders for the lyrics. At the same time, the game is made easier to pick up and play because of a smooth and simple interface.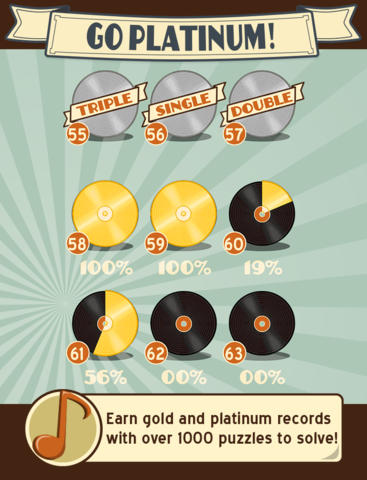 The game also features a heavy social aspect to it, as it shows off the different social network buttons so you can share or even ask your friends for answers. While the game is designed to be about music, it's sort of surprising to find that the title lacks a soundtrack of its own. Then again, attaining licenses music can be quite a challenge.
The Verdict
This game is really made for the crowd that likes to twist their brains dry of knowledge. There are so many different titles and tracks that it may seem impossible to guess them all. Of course, since this is a freemium game, you can pay to make the title easier. Before you do that, however, try and ask some of your friends through a social network. Overall, the title is worth a look for those that think they are brainy when it comes to music.