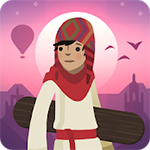 Ahoy there me lads and lasses! Here's yer favorite app pirate ready to jump in another booty hunting adventure down the seven seas. The crew and I are on high spirits because we had fun yesterday that's why we are full on energy to find more treasures! We enjoyed sand boarding since we haven't done it on a long time. As ye all know, we are sailing most of the time that's why it's also exciting when we get to try some land games. Since I'm still not over the high from our sand boarding, the app that we will have today has something to do with that. It's called Alto's Odyssey by Noodlecake Studios Inc.
Fantastic visuals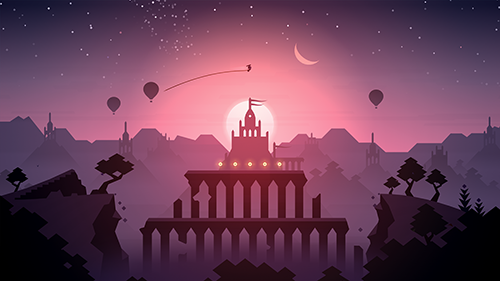 The developers did an excellent work when it comes to the graphics of this free to play game. It has superb visuals that keeps on changing. There is a lot to see, but they still ensured that it wasn't too busy, making it pleasant on the eyes. There are temples, canyons, and dunes that you will see as you play the game and go farther. You will also see flying birds, waterfalls, trees, and hot air balloons as you play. The visual effects, such as falling stars and vortexes also add to its appeal. There are six different characters to unlock as of the moment.
Easy gameplay, but challenging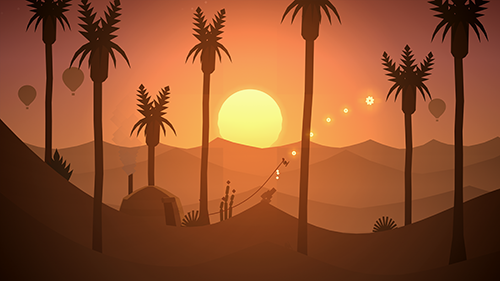 The basic gameplay is simple to learn. You just need to tap on the screen to make your character jump. There are also different tricks to learn along the way that will not only help you avoid obstacles, but will also earn you more points. The landscape changes and there are areas that would just suddenly go up and down, giving the game a taste of challenge.
It comes with a zen mode
The regular mode will make you ear coins and power-ups while avoiding obstacles. It also comes with a zen mode for those who just want to keep playing without really having to worry about coins or power-ups. If you want to relax and kill time, it's a mode that you can try.
Relaxing background music
The background music of the game is also relaxing. While playing the game, the music will not get your focus out of the game. It would even release tension so you can play better. There are also sound effects like when you pass through waters and when you collect stars. That is an added life and enjoyment to the game.
Thumbs up
Alto's Odyssey is free to download and play. It has relaxing background music and rich visuals. It's also easy to learn, so you can begin with its fun in no time. There's a right level of challenge that makes the game more interesting. It also has a zen mode if you prefer to kill time and relax at the same time.
Thumbs down
A 30 second advertisement plays each time you need to start the game.
The verdict
Alto's Odyssey is an easy to learn, challenging, and fun casual game to try if you want to kill time or have a relaxing time. You may need to be patient with the ads the play when you crash and need to start again, but considering it's free, it's still not a bad deal.