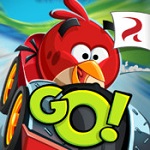 Avastthar ye swabbies! Yer app pirate is back from another booty hunting adventure. Aside from me parrot, there are other birds that are dear to me. Shhhh! Don't tell me pet as it gets easily jealous. Har, har, har! Those birds are the characters from the game Angry Birds. They are back in another installment of the game called Angry Birds Go! Even me crew in the ship like Big Jim and Left-eye Morrison love it.
Ready, Set, Go!
This installment of Angry Bird games has the same familiar characters that people loved on its other versions including Red, Stella and Moustache Pig. But instead of the usual physics game in which you need to aim on the pigs and take them down, you will be racing in a kart with this app.
Your goal is to win as many races as you can to earn coins that you can use for upgrading karts. This will also let you unlock more characters and tracks. Some tracks have specific requirements that you need to meet before you can use them for race. This means that you may need to repeat playing previous tracks and races until you get the upgrades required.
Amazing Graphics and Sounds
Considering that this is a free app, the graphics is well thought and it's very eye catching. It's vibrant, colorful and detailed. Characters are in 3D and their movement is also smooth. You would even see fruits splatter on your screen when ran by the kart. The developers also did well on the sound. The background music is just okay but the sound effects were really good. You will hear various sounds from the characters during the race, as well as the kart running. Distinct sounds can also be heard when coins are collected along the way, when fruits splatter and when your character wins the race.
Different Modes to Play
Aside from its fantastic graphics, another thing that you would love about this app is that it has different game modes. Some of these modes would require you to finish a race within a set time, run through various fruits, win against one competitor and be one of the first three to finish a race. This brings variety to the game making it more fun.
Applause
Things that developers of Angry Bird Go did well are the superb graphics that will draw the eye of players and variety of tracks and game modes that make it more interesting. It also has two control options including tilting or tapping on the screen. You can choose which one you're most comfortable with.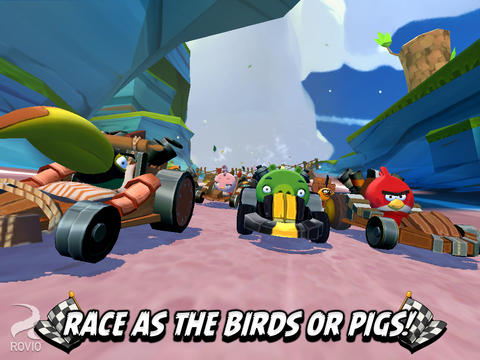 The not so good thing about this game is that you may be tempted to spend real cash if you are an impatient player. Characters only come with limited energy, which are used in every race and you need to wait for it to replenish to start racing again. Karts and tracks may also take time to unlock. Gems would speed up the process but you need to spend real money.
The Verdict
This is absolutely a great game to play. It's visually appealing, fun and challenging. However, you need to be a bit patient if you do not wish to spend several dollars on in app purchase.