Yo, ho, ho, and a bottle of rum! Ahoy there me lads and lasses! Yer friendly app pirate is ready to go on another booty hunting adventure. We are preparing to go on another dive down Davey Jones' locker, but before that, this old salt will not forget your daily dose of app review. Since ye know that me fond of animals, me decided to give ye a review that is about them. The app is called Animal Restaurant by DH-Publisher.
Cute graphics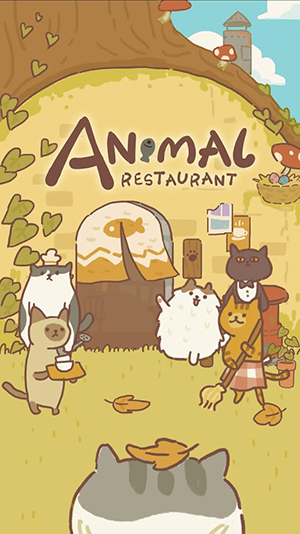 You will not be disappointed with its graphics because it's cute. The main characters are adorable cats that run the restaurant. There are different kinds of animals that are the customers. The way that they are drawn are like those from kids' books. They are in 2D, but they are still charming to see.
It has a story
It's not just the usual restaurant games. While the basic gameplay, which is managing a restaurant, is the same where you serve customers their order, this app has a background story. It's a great addition because it adds to the experience of the game. It feels more personal when you know the story behind it. A stray cat stumbles upon a restaurant owner that gives him a chance to work and be part of it.
Easy to learn
The game is simple to learn. There is a tutorial at the beginning of the game that will show you the basic things and how they are done. Within just a short period, you will get used to it and you will know how to play it without trouble.
It's free with minimal ads
The app is free to download. Like other free games it also comes with advertisements, but what's good is that they are not too much. Considering that you will not pay for its download or use, it's something acceptable. Plus, you have the option to decide if you wish to watch the videos advertisements or close them. Watching them will earn you game currencies so it's also not that bad at all.
The ups
Animal Restaurant is free to play and although it comes with advertisements, they are not too much. The graphics is also cute and it has a background story so you will know where it all started. It's easy to learn and there's also a tutorial or guide at the beginning.
The downs
This app is generally a fantastic game to play. You may just need to wait to have enough game currency to unlock more items, but it's not a deal breaker especially it's free and it's how similar games also work.
The verdict
Animal Restaurant is recommended for players who love restaurant management games and animals, especially cats. It's generally an excellent game to add in your list, especially it's free, cute, and fun. There may be advertisements, but it's not a deal breaker since they are only minimal. Plus, when you watch video ads, you will also earn game currency, that you can use to unlock more items.