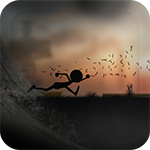 Ahoy there me hearties. Ye know that yer friendly app pirate is not just a fantastic pirate, but I'm also brave and I don't fear anything, aye? Me crew and me parrot pet can attest to that! Even apocalypse doesn't make me feel afraid. Speaking of apocalypse, the app review that I will share with ye me lads and lasses has something to do with it. Avast ye as I tell ye more about this app called Apocalypse Runner Free by Anion Software.
It Has a Dark Theme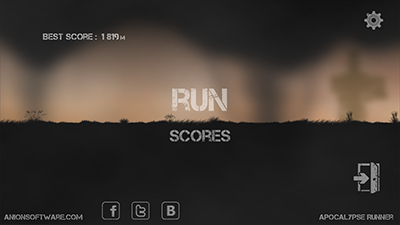 Since it's about apocalypse, it's not a surprise that it has a dark theme. You will only see the shadow of the terrain that you will be running on. There are wings that you need to catch on air but they are also in black. Even the obstacles that you need to avoid like the spikes and rocks are also dark so it could be challenging to prevent them, especially the game's speed is pretty fast. The wave that you are running from seams realistic and so as its sound.
It's Heart Pumping
Since the speed of the game is fast and the wave that you're running away from is just behind you, it will make your heart beat faster. It will make you feel nervous that you'll be caught by the wave and the game will end. Although an endless runner game is not something new, this one will still give you that adrenalin rush that you may not think you'll still feel after trying various endless runners. Its speed might be a concern to some because it's difficult to see the obstacles, but those who are looking for a challenge will love it.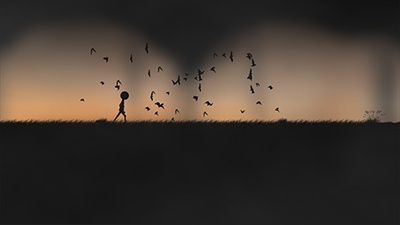 It's Free But With Ads
Downloading this game is free, but it comes with advertisements. There is an option to make it ad-free but it comes with a cost. While the ads can be annoying when playing, you can still play the game without paying for the ad-free version, although the latter is more convenient to play as you will not be bothered by the advertisements.
The Good
It's an exciting and heart-pumping game that has the basic gameplay as other endless runners, but it still has that challenging feel. It also has something different to offer as it lets you collect wings that you can use for flying once a specific number has been accumulated. The wave that you're trying to run away from is realistic and so as its sound.
The Bad
 While we understand that the theme is dark, it would have been much better if the obstacles had something that would make them standout like a bit of a glow or a lighter color as it's very difficult to tell them from the rest of the, especially the speed of the game is fast. There are also advertisements.
The Verdict
Apocalypse Runner Free might have a bit of hiccups, but it's still recommended that you give it a try, especially if you're into endless runners. It's easy to learn, but it can be challenging, especially with the dark theme and fast speed.