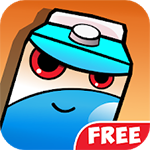 Ahoy there me hearties! Here's yer favorite app pirate bringing ye another review from the seven seas. The crew and I also go on land once in a while. Although we love fresh seafood that we catch in the ocean and fruits that we find on islands, we also miss some foods that we find on land, especially various snacks! Ye will always find us hunting the best foods on grocery stores that we can bring on ships. It's amazing how the baggers are so great in organizing the items inside the bag. If ye want to get a feel on how it is to do that job, Bag It by Hidden Variable Studios is something that might interest ye. Listen up me lads and lasses as we do a review of this app.
Fantastic Graphics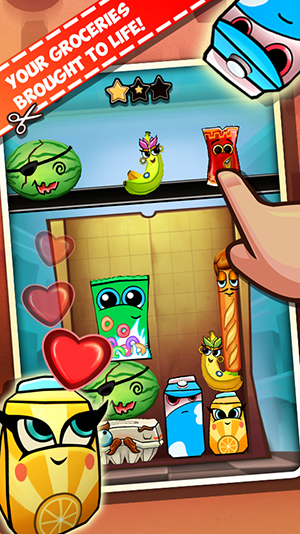 It can't be denied that graphics of this game are adorable. There are grocery items on top that slide from left to right and a grocery bag at the bottom where you must place the items. Drag them and arrange them so that they could fit properly without breaking anything. The colors of the items are refreshing on the eyes. The items also have smiling faces, which may frown in the end if they are not properly placed.
Fresh Gameplay
This is a fresh idea when it comes to puzzle games. It's something that you don't usually find, which is perfect for those who are tired of the typical games that are under the puzzle genre and are looking for something different.
Easy to Learn, Hard to Master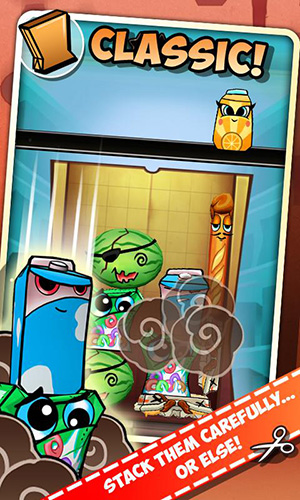 Although it's not the usual puzzle game that you will find around, it is still something that can be played by everyone since it is easy to learn. Plus, there is a tutorial at the beginning of the game, which would tell you what needs to be done. It basically involves dragging grocery items on where you wish to place them in the grocery bag. While this may sound very easy to do, the execution can be challenging because it's like placing real grocery items. You need to consider their weight and size. If you don't have the right strategy, the items may not fit in the grocery bag or the light items can be crushed by the heavier ones. Moreover, the option to rotate the item can be difficult. It would have been better if you can just tap on a button to do that.
Free But Has Lots of Ads
Bag It! is available for free. You can download and play it without spending anything, but the drawback is that it has several video advertisements that pop-up. This could affect the entire gameplay because there are times that they show up one after the other and they stay for about 30 seconds.
The Good
Bag It! is free to play and it has adorable graphics that are refreshing to the eyes. It's easy to learn and it offers a fresh idea compared to typical puzzle games.
The Bad
It has video advertisements that play for several seconds and the rotating the grocery items can be challenging.
The Verdict
Bag It! may have its drawbacks that include advertisements that pop-up and play for several seconds and rotating the items can be challenging, but it's still an interesting app to try. It's free, fresh, and it's a an eyes candy that will keep you occupied.