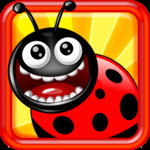 Ahoy, mateys! Your one and only pirate app and me parrot friend are back for another game that we found while sailing on the seven seas and diving for treasures.
I find little insects fascinating, though I seldom see them with me two eyes because there is none in our ship. But when we treasure hunt on forests and mountains, I see a lot of them and take a snap on me gadget. I always look at them when I lay on me bed at night. I found this game called Boom Bugs that let me see those cute insects in action. Avast ye, I'll let you know lads and lassies more about this fun game.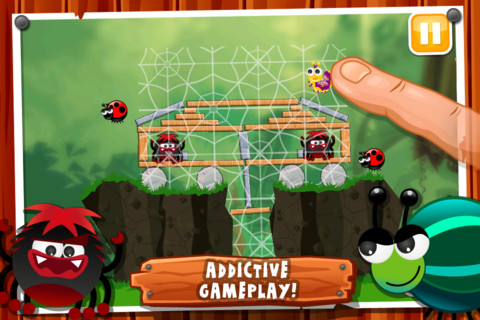 The Game Play
Boom Bugs is a puzzle, physics game like Angry Birds and Hambo that lets you take down the enemies by moving different kinds of objects that can be found around each stage. However, unlike Angry Birds in which me parrot's buddies are used as weapons and may damage the enemies, the bugs themselves do not harm the opponents. Instead, ye me mateys, need to strategically place them on the best spot so the objects on the game will hit the enemies, knocking them down.
There are 9 different types of bugs that you can use on the game. Some of them are ladybugs, snails, bees and caterpillars. They have different skills so you need to think which of them to use and where to place them to clear the stage. Your goal is to kill all the spiders that you see on each level. Different kinds and numbers of bugs will be given on each level. They will be placed on the left side of the game window. Drag the bug that you want to use on the spot where you intend to place it. Once done placing all the bugs you want to use on their right spot, tap on the detonate button on the lower right corner of ye game screen and yo ho ho! The action will begin and the bugs will start exploding. Some of them will explode immediately, while others float around and detonate when they hit something.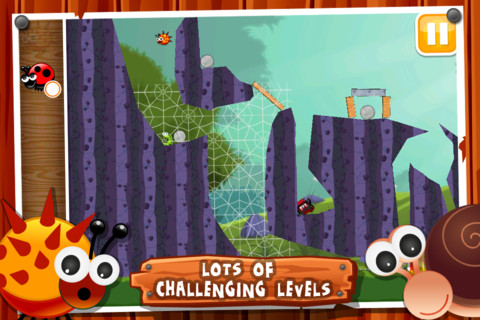 I played all 54 levels of the game and blimey, some of the levels were difficult to complete. Good thing the atomic Explode-a-Toad was there to take down everything. But the helpful frog is available as an in app purchase. So aside from the $0.99 that ye lads have to spend for the download of the game, ye have to spend another $0.99 from ye booties to take advantage of the toad's power to take down all enemies. But if ye prefer to take the challenges on your own, ye buckos can play the game without the help from this green creature.
The Good
The graphics of the game is good. It has vivid color with cute creatures and background. Though you are using it on a phone with smaller screen, there is a feature that gives a maximized view on where you are placing the bugs. There are several levels, plus achievements and leaderboard that make the game more challenging. If you were not able to complete a specific level, there is no need to go back to the first stage as ye lads can replay the level immediately.
The Bad
Though there is a background music that plays when you play Boom Bugs, it's not something that you would keep hearing on your head long after you played the game. Furthermore, the explosions are not that huge. Bigger explosions could have made the game more exciting. But these are just minor issues. In general, this game is a good find for all ye lads out there.