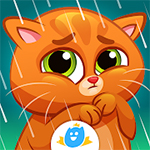 Ahoy there me lads and lasses! Yer friendly pirate is here again, ready to fill your hunger in app reviews. Me parrot pet keeps pecking me hand, wanting to play. Oh, me pet is really sweet. This old salt has a soft heart on animals. Aye, it's not just birds that me like, but all kinds of animals too. When I was a little lad, me had many pets at home, including cats and dogs. No, they didn't fight, they actually played with each other. But now, since me always on the sea, and booty hunting most of the time, me can only have one pet. That's okay though because me also have virtual pets. Har, har, har. In fact, I will tell ye hearties about this app that will let you have a virtual pet. It's called Bubbu by Bubadu. Avast ye and let's start.
Stunning visuals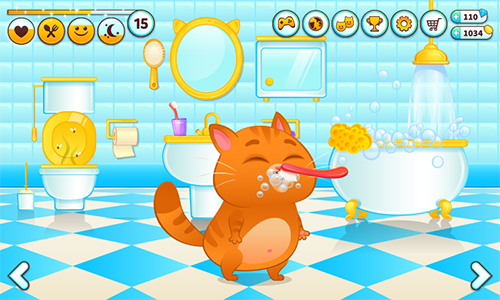 This casual game let you care for a virtual cat pet. You will love the graphics because they are colorful and eye-catching. They may not be realistic, but they are an eye-candy. It makes the game more enjoyable that you get to see different things, and they are detailed. You also get to explore various places as the cat will not just be confined inside the house. Even the inside of the house is adorable, especially when you get to decorate it.
Lots of features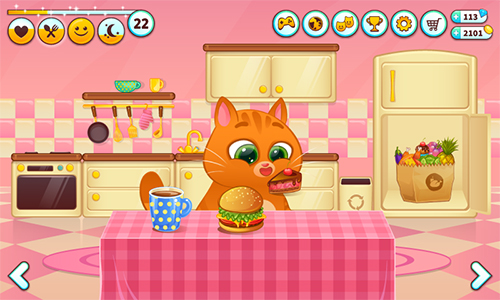 You will not get bored playing this virtual pet app. There are several things that you can do like cook for your pet, play with it, give it a bath, and even take it to the doctor. It will be like taking care of a real pet, but on your device. As you level up, you will unlock more items, and others you can also purchase using the coins that you collect. As mentioned, you can also decorate the home, which is an added fun, as you can customize it to the style you want. There is also a feature to dress up your pet, so it will look more adorable. It also needs to eat, so you need to put it to bed. However, it would stop you from playing since you cannot do anything while its sleeping.
Several mini games to play
Aside from the different features that will keep you entertained, there are also many mini games that will keep you busy. Some of these mini games are Jumping Cat. Pop Balloons, Cat Connect, and Stick Ninja. As of this writing, there are over 30 mini games available. If you are done caring for your pet, there is still something to do in the app, as these mini games await you.
It's free with minimal ads
The game is available for download without any cost. While there are in-app purchases you can still keep playing the game without spending anything. It has ads but they are not intrusive. You will also be asked to watch a video advertisement to earn gems, which you can use for premium purchases, but it will still be upon your decision if you wish to go with it or not.
The good
Bubbu is free to play and it has adorable visuals. It is rich in content and there are several mini games that you can play, making it entertaining and enjoyable. The ads are not intrusive.
The bad
There is really nothing bad to say about this game. You may need to stop playing when the cat needs to sleep, but that's just it. Also, it's based on real life so the cat would really need to sleep, although it can be a bit of drawback when you want to keep playing.
The verdict
Bubbu is a fun, enjoyable, and adorable app to play if you want a virtual pet. There is so much to explore, and unlock. There are also mini games that you can play. You will not get easily bored playing this because there are many things to do.