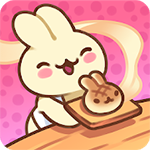 Ahoy me lads and lasses! Me and the crew had a filling lunch as yer friendly pirate here baked some cakes and pastries. This old salt surely has some talent in the kitchen. Me not bragging about it! This bucko is just stating a fact, and these buccaneers, including me parrot pet can attest to that. Anyway, I will let ye me mateys have a taste of me creation one day. For now, let me give ye another dose of an app review that me know ye are waiting for. 'Tis also about baking and 'tis called BunnyBuns by HyperBeard. Avast ye and let's start.
It has cute graphics
The cute white bunny with pink cheeks is the star of the game. It's the main character in the app and its adorable. It wears its chef hat and uniform, and it will create various pastries depending on the order of customers. It's not just the bunny that looks charming, but even the customers too. There are different customers that buy from the pastry shop and they also have various looks. Some of these clients are dog, cat, and a knight on fire. The ingredients used in making pastries are also adorable to see, and so as the pastries that come out from these ingredients.
It's is easy to learn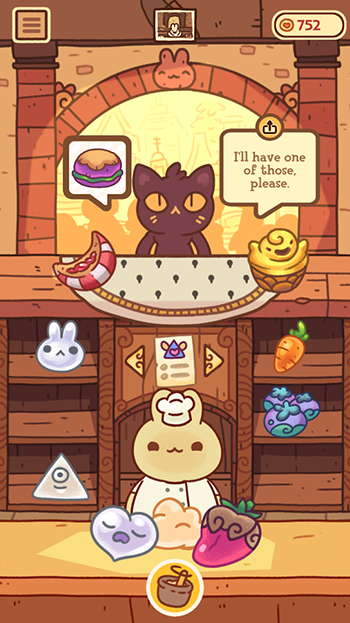 The game is simple to understand, making it a game that players of all ages can play. The basic gameplay requires that you make the pastry order by the clients, using the ingredients available. You will get more coins if you successfully produce the product they requested. Else, you will collect a smaller amount of coins.
It has a twist
Baking apps are not new in the game world and so as mixing ingredients to produce various bakes goodies. This game still has something fresh to offer because instead of just mixing ingredients, you will mix ingredients and feelings.
Items are costly
You will three basic feelings/shapes and three ingredients at the start of the game. Collect coins to unlock more ingredients and feelings/shapes. However, this may take time because the items are costly and you only earn a few coins from serving customers. Moreover, you can't play continuously because the bunny has to sleep and rest. The rest period can take time, which limits your gaming period and the chance of gaining more coins.
The good
BunnyBuns is a free to download game that is easy to understand and is appropriate for all ages. It offers a twist and it has adorable graphics that are fun to see.
The bad
It takes time to unlock new items because they are costly and the coins that you earn for serving clients are not that much. Plus, the sleeping time of the bunny can take long, which limits your playing time.
The verdict
If you are looking for a cute and casual game that you can play every now and then, BunnyBuns will make you occupied on your free time. It's easy to learn, it has amazing graphics, and it doesn't cost anything to get it.