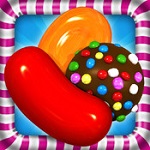 Ahoy thar, mateys! Yer App Pirate be back with another game for ye! I be addled with so much excitement wit this game called Candy Crush Saga.. it be very addictive that me mates always see me in the crow's nest playing it all day and night long! Arrrrr! If ye be out in the briny deep for a while, ye may not have heard of this game yet. It be one of the most popular games in the world today!
What the Game is
Candy Crush Saga has taken the mobile gaming world by storm. Anywhere you go, you will see someone playing this game one way or another. Basically, it is a puzzle game which involves the use of multicolored candies that you need pair into three or more in order to take out. There are various objectives and the difficulty only increases as you move along towards the higher levels.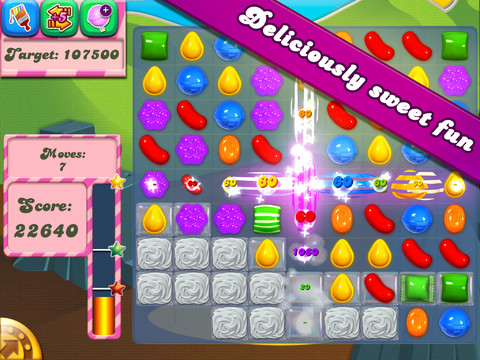 Many features in this game make it different from many other puzzle titles that have come out over the past few years. Other than using colorful candies and challenges that become harder and harder to accomplish as you progress, there are bonuses as well as special moves which make playing Candy Crush Saga even more fun.
For instance, if you combine four candies of the same type, you will be able to get a special candy which wipes out other ones horizontally or vertically. Then when you combine five candies or more in an L-shaped pattern, it will give you a bomb. To make things more interesting, when these two are combines, they will wipe out more than half of the candies on the screen! There are so many more features in this game that you will surely love once you start playing it.
Gameplay
Candy Crush Saga is actually very easy to play in terms of controls. All you need to do is swipe the screen in order to combine candies. However, you do need to follow the instructions carefully as challenges change every once in a while. If you do not read how you can complete a particular level, you may end up getting stuck there for good.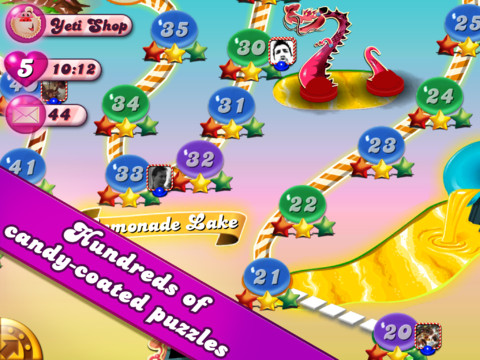 This game also requires you to connect to Facebook for a bunch of reasons, one being that it serves as the leader board in which you can beat your friends' high scores. In addition, you will need to ask your friends for tickets in order to move to the next set of levels. Without them, you won't be able to do so. Your friends will also be able to give you bonus lives when you ask for them. Unfortunately, you really need to have a Facebook account in order to enjoy this game to the fullest extent.
The Verdict
Candy Crush Saga is a very unique and fun game to play. Most of all, it is for free. Though there are in-app purchases that are offered, you don't have to buy them. This is a puzzle game that is guaranteed to take up a lot of your hours due to the amount of fun you will be having while playing it.