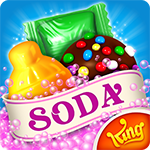 Ahoy there me hearties! Ye all know how this bucko used to love playing Candy Crush Saga, aye? 'Twas an addictive game that I even forget to feed me pet parrot 'cause I am glued on the screen. Looks like that yer friendly app pirate would be busy again after booty hunting as there is a second game from the same maker of Candy Crush Saga that is like a second installment of the said app and 'tis called Candy Crush Soda Saga. Let me tell ye lads and lasses what I think about this app in this Candy Crush Soda Saga review.
It's Familiar
If you played Candy Crush Saga before, everything will be familiar to you when you play Candy Crush Saga. It has the same colorful map that would take you from one level to another, as well as the sweet candies that needs to be cleared on the game board. There are just new elements that were added to make it different from the other game. Since it's named Candy Crush Soda Saga, you would expect not only to crush sweet candies, but to pop sodas as well. Even if you have not played Candy Crush Saga before, it would not be difficult to familiarize yourself with the game as you would just be matching objects of the same color.
More Challenging
This addicting game may be easy to learn, but it's definitely difficult to master. You will be able to pass the first few levels without difficulties. However, it becomes more difficult as the game progresses. There are more obstacles along the way, including items that are covered with several layers of things that need to be cleared before you can free or move them like icing, jelly and ice. You will find yourself having to repeat levels several times to pass but still not getting three stars, which would make you want to replay that level to get all stars and beat your friends' scores. Your moves or time are limited, making it more challenging. This is when you may be tempted to make an in-app purchase to get extra lives, moves or special objects. However, it's still up to you if you want to spend cash as you can still play without it, although you just need to be more patient in the game.
The Good
Candy Crush Soda Saga is an eye candy. It's visually appealing as it's colorful and there are various cute objects to see. It's free to play so you don't really need to spend anything to get it or pass the levels. It's challenging and it would keep you occupied for a long time. The challenges vary in different levels and there are new objects and combinations being introduced so it doesn't get boring or old fast.
The Bad
Spending real money with the in-app purchases can be really tempting because the game is so addictive that you may want to continue playing even when you run out of lives. If you don't have the control, you may end up making purchases.
The Verdict
This is a definite must have app if you are looking for a challenging match three game that doesn't easily get old. Just hold yourself with the in-app purchases though as it could really be tempting to spend money to play more soon.