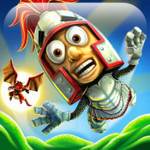 Ahoy, me hearties! Batten down the hatches because we have a new game that you will absolutely go insane from playing. If you've ever wanted to experience what it is like to use a catapult and fling stones of all sorts and sizes, here is your chance. Catapult King is a visually-stunning, catapult simulation game that will surely have you at the edge of your seats.
When me mateys and I are not searching for doubloons or fighting against the soldiers of the Queen, I play Catapult King to get me self trained for what my next catapult battle would be like. Aye, this truly is a marvelous game that everyone will surely love to play on their handheld devices.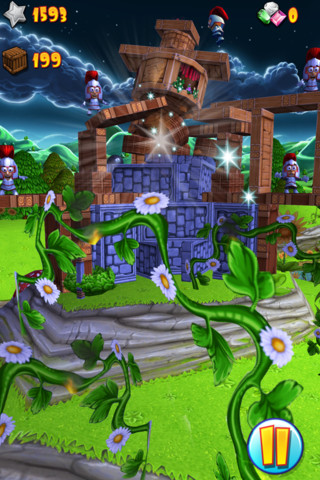 What is it about?
The princess has been taken captive by an evil dragon and knights on the land seem to follow his every bidding, even fighting against their fellow man just to satisfy his whims. You, as the main hero of this game, will have to rescue the princess by using your catapult as your weapon of choice. There are tons of levels that each have their own level of difficulty which you will need to conquer before you will finally be able to get to the princess. I gave it the ol' heave ho and found me self spending countless hours in an attempt to demolish every structure I come across with. Plus, it is really quite a lot of fun using a catapult and launching the balls of fury against those landlubbers.
Catapult King is essentially a physics-based game. You will be launching a lot of slingshots (cannonballs for normal folks) and the objective is to destroy the structure which houses them ugly knights in as few shots as possible.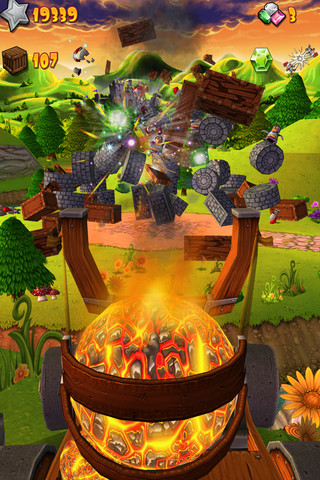 The Game Play
Shiver me timbers! The game play is what I actually loved about playing Catapult King. It's so easy that even a simple picaroon would be able to play it. To give you a general idea, the game is in full screen mode. It is in first-person view so what you will be able to see is the arm of the catapult as well as your ammo. To thrust the bombs towards the seadogs in your way, simply swipe your finger downwards and release. The length of your swipe determines how strong your launch will be so you will have to do some trial and error attempts more oft than not.
You will also be able to adjust the angle of your shots, similar to a real catapult. Lowering or increasing the height of the boom will determine the distance and angle in which the bomb will launch in. There are different kinds of slingshots you will be able to use depending on the type of structure you will need to take down. For instance, you have the basic black stone which deals a considerable amount of damage. Then again, there are the heavier ones which will be able to take down steel structures. Me personal favorite are the ones that split up into three discs and slice through wood like a hot knife through butter.
Is it worth downloading?
From the very moment I set me eyes on this app, I knew that a lot of time will be spent on the poop deck playing this game. Catapult King has great graphics, a fantastic game play and the developers did not skimp out on providing a lot of levels for you to play in. It is with a guarantee that you most definitely will have a jolly ol' time with this game. Have fun!