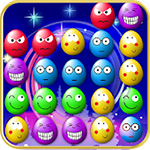 Ahoy there me lads and lasses! Yer app pirate is here again ready to tackle another booty hunting adventure. Me woke up early in the morning so I decided to prepare breakfast for the entire crew. They are still asleep as they slept late last night drinking rum and having fun. Har, har, har! Me cooked our favorite breakfast; eggs! Since we are talking about eggs, I will also share an app with ye that has something to do with them. 'Tis called Crush Eggs by Addict Puzzle Games.
Cute eggs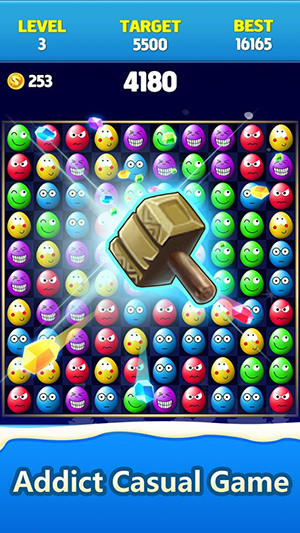 The overall interface of this free app is simple and straightforward. On the first window is the title of the game with a blue background that has some twinkling stars. In the middle of the screen is the play button and an option to connect with Facebook. At the bottom are other options that include turning the background music and sound effects on and off. The game window itself shows the eggs, the game level, target and personal best. While the general interface is basic, the eggs look adorable. They are in different colors and they also have different faces. Some are winking, smiling, angry and surprised.
It's a fun time-waster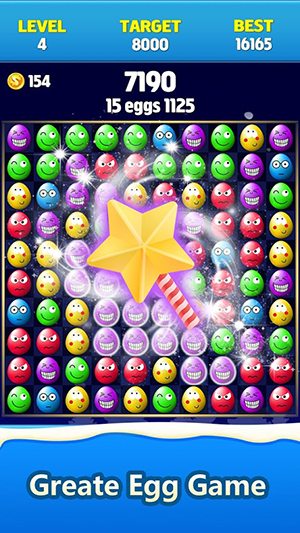 This app is a classic puzzle game that is a fun time-waster. It will keep you occupied for a long time. It's something that you can put down when you want to stop, and pickup anytime you wish to play.
Easy to learn but hard to master
The basic game is easy to understand and learn. Tap two or more of the same eggs that are next to each other. There is also no time limit or number of moves so you the pressure is not as high as other similar games. You have a target to meet to move to the next stage and there are levels that can be very challenging.
Resets to the first level
While other like games will just let you repeat the same level that you failed, Crush Eggs will bring you back to the first level. It can be frustrating especially if you have reached higher levels only to go back to the beginning and repeat the stages.
The ups
It's a free app that is fun and comes with adorable graphics. The interface is intuitive. It's easy to learn but also has the right level of challenge that will keep you interested. There is no time limit and number of moves that you can use on a specific level so the pressure is not as high as other similar games.
The downs
You will go back to the first level if you fail to meet the target for the level that you are in. It can be frustrating if you are already on higher levels.
The verdict
Crush Eggs is a fun puzzle game that will keep you occupied. It has unlimited gameplay so you can keep playing as long as you want. You may need to go back to the first level if you play, but overall it's an enjoyable time-waster.