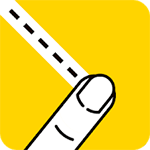 Yo, ho, ho, and a bottle of rum. Here's yer favorite app pirate preparing for another exciting booty hunting adventure with the crew. But 'afore we leave, of course this old salt would not forget writing another review of an app that me think ye lads and lasses will find interesting. While this bucko loves treasure hunting and drinking, me also love exercising me brains. The app that's up for review today is just right for that. 'Tis called Cut It: Brain Puzzles by Super Game Studios. Batten down the hatches me hearties and let's start!
Average Graphics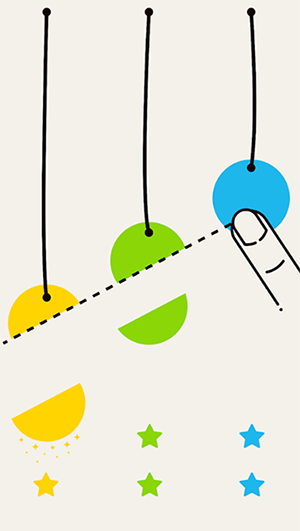 The graphics of the game is on the average side. It's not that impressive but it's not too bad either. The levels have simple shapes like circles, squares, and triangles that also vary in color. There are also levers and stars. The latter are the targets that need to be hit. Aside from these objects, the background of the game is white.
It Will Make You Think
The first few levels are easy to solve. As you go up to the higher levels, the difficulty also increases, but they are still not impossible to complete. Depending on your skills in solving puzzles, you may have to repeat some levels several times before you can solve them, but with patience and several trials, there's a big chance that you can solve these puzzles without using any hint or skipping them.
Ads Pop-up Every Few Seconds
The app can be downloaded for free. However, the free version comes with app and it can be annoying because there are times that they pop-up every few seconds. While some can be skipped, there are also those that you cannot skip. However, you have the option to make an in-app purchase in order to remove the advertisements. If you are not into using real money in your games, you may need to live with the ads.
There's a Hint and Skip Option
Like most of the puzzles, there is a hint option that you can use to get an idea on how to solve a puzzle that you are having difficulties with. Other puzzle games do not have a skip option and they will require you to finish one level before you can move on to the next. This one has a skip option so you can skip a level if you feel you are stuck on it. However, the hint and skip options are only limited and they are difficult to earn so they should be used carefully.
Thumbs Up
Cut It: Brain Puzzles is a free to download game that comes with varying puzzles that will make you think. The difficulty level increases as the level goes up, but they are not impossible to solve. It comes with a hint and skip option and you can retry solving a puzzle as many times as you want.
Thumbs Down
The app comes with several advertisements and some of them cannot be skipped. It also has lots of room for improvement when it comes to graphics.
The Verdict
Cut It: Brain Puzzles is recommended for those who are into puzzle games and wish to exercise their brain while passing time. It has lots of advertisements, although they can be removed if you pay with real cash.