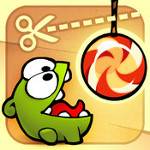 Ahoy, me lads and lassies! It's me again, your one and only pirate app, back for another great game find from the seven seas.
When ye mateys see a cute little creature asking for candies, ye all would do everything to feed that sweet tiny thing some sweets, aye? I'm sure ye will, because even me ruthless pirate heart wasn't able to resist its charm. Cut the Rope is a game that will let you feed an adorable (as adorable as my parrot friend) green creature called Om Nom its favorite; candies!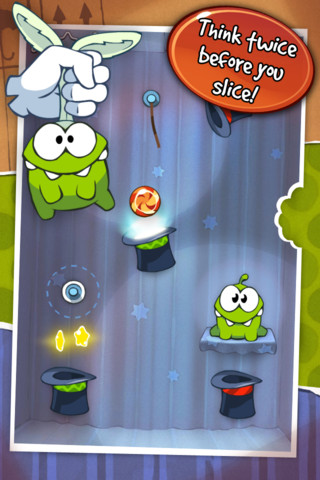 The Game Play
You will hear a knock when the game starts. Upon opening the door of your house, you will be presented by a package. This package contains Om Nom. Your goal is to cut the rope/s holding the candy and make it land on its mouth. This is a puzzle game that will test ye problem solving skills. You need to determine the right order when cutting the ropes to make sure that you will achieve your goal. Aside from the several ropes to cut, the game becomes more challenging as various obstacles are included on the other levels.
These obstacles will make it difficult to complete each level. Some of the things that will hinder you from feeding the candy to Om Nom's mouth are spiders, spikes and sparks. There will also be other objects that will appear on the game that will help you complete the level. Some of them are air cushions and bubbles. There are 11 boxes to unlock. These boxes correspond to the game's difficulty. These boxes include the cardboard, fabric, foil, gift, cosmic, holiday gift, valentines, magic, toy, tool, buzz and DJ box. Each box has 25 levels to clear. All in all, you'll have 275 levels to complete. The levels on each box do not determine the stage difficulty. When you open a specific box, all of its 25 levels are automatically unlocked. It's up to you which level you would like to play first. What's important is that you collect the needed number of stars to unlock the next box.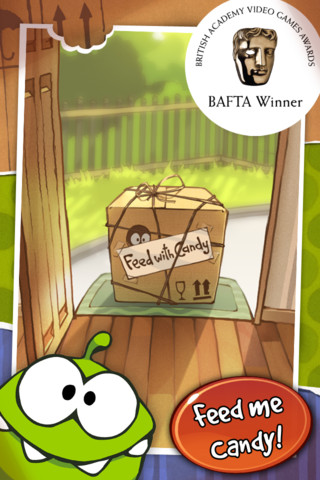 There are 3 stars that you can collect on each level. Try collecting all of them for higher points. Ye lads and lassies have the option to enable crystal account. By doing so, you can join the leaderboards and compete with other players to be the highest scorer. You may also post your score on Facebook or Twitter, as well as find other friends on your contacts that play the game. Having a crystal account will give you access to the achievements that you can earn making the game more fun. In app purchase is also available for unlocking all boxes. So if ye buccaneers want to gain access to all the boxes right away, ye may spend ye booties for that.
The Good
The graphics of Cut the Rope is one of the best that you could find on game apps available today. The background and images are simple but their color and quality are superb. This game will challenge your mind and skills making ye forget everything when playing. I missed one of our island stop for treasure hunting because I was so focused playing it. The various things added to the game would not make you feel bored even when playing Cut the Rope for a long period. The ability to play other levels without having to complete the previous level is a plus. If you are having difficulties completing a specific level and you're already getting frustrated, you can move to another level and just go back to that one.
The Bad
There are no major issues that ye lads may encounter aside for some concerns on the controls that may arise every now and then. I was trying to move a slider but instead, the rope next to it was cut. Aaaarrrggghhh! I had to reset that level to clear and earn all the stars.