Avast thar, ye bilge sucking landlubbers! Hahaha! It is I, the App Pirate, here to give ye the latest news with apps for ye device! Today, we be tacklin' Despicable Me, a game that me hearties can learn a thing or two from Gru's minions! If me mates were as loyal as these minions, we be havin' endless adventures from sunset to sunrise! Aye, that story be for another time young lad. This be a game that be a barrel of laughs and tons of fun to play!
Despicable Me: Minion Rush
If you've seen the original movie, then you know that the minions are a huge part as to why the flick was a huge success. They are adorable, funny and get into the most absurd situations. Now, you can have the same experience with this game as you control the minions from one adventure to another in this very challenging yet fun title.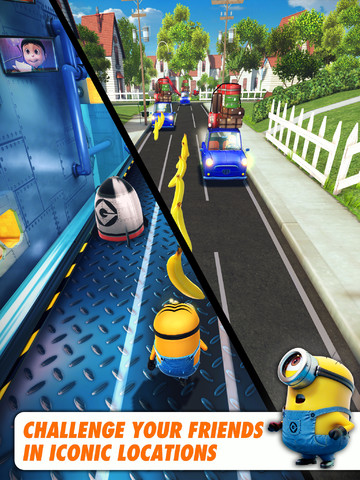 In this game, you will go from one level after another to impress Gru, your employer. You will be jumping to avoid obstacles, fly and collect bananas along the way. And if you're a fan of the movie, there is nothing more adorable when a minion says "ba-na-na!" All this in the hopes of being awarded as Minion of the Year by Gru!
Why It's Awesome
First of all, the game makes you feel as if you're watching the movie itself. The animation is so cool that you would get lost for a moment and believe you were not playing a game. Then of course you have the minions causing trouble everywhere they go and they are absolutely hilarious! Staying within the parallels of the movie, you will have to go against Vector, one of Gru's mortal enemies. To help make things easier, your minion can be customized with weapons and costumes!
Gameplay
This is a very addictive game for a number of reasons. Besides being a lot of fun, you won't get tired of this easily. There are many levels to play and bosses to defeat, and hear amazing voice over acting while in the game. In addition, you won't be stuck with 2D screen formatting as Despicable Me has multiple dynamic camera angles.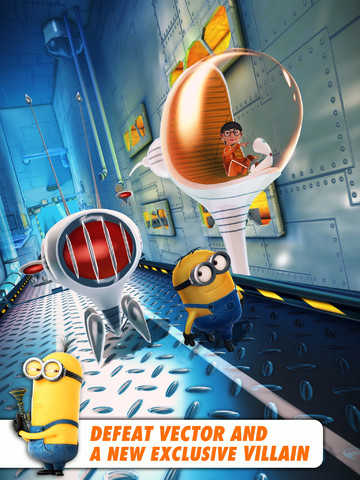 Other than the story mode, you can also challenge your friends to see who has the best score during the game and compare which minion is the best! You can also send them minion insults while you're at it! Avast, ye Matey!
Verdict
If you're looking for a reason not to download this game, there won't be anything you can find that will make you look past Despicable Me. First, it's for free so you can have all the fun you want without having to spend money for it. Then of course, how can you say no to the adorable minions? That should be reason enough for you to get the game, whether you're a fan of the movie or not. Finally, this game is full of surprises and things you won't ever expect to come from a game.