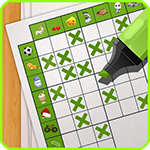 Ahoy there me hearties! Yer favorite friendly app pirate is ready to give ye another review of one of the apps me found from me sail around the seven seas. Prepare yer brains buckos 'acause this old salt found it this app challenging to play. Batten down the hatches and let's start to talk about Einstein's Riddle Logic Puzzle by Rottz Games.
It's a Brain Workout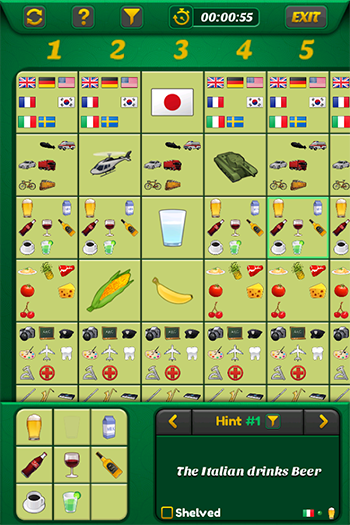 If you love puzzle game, this is the ultimate app that will really make your brain think. There are thousands of puzzles to complete that vary in levels. What makes it different from other apps as that you don't have to make any in-app purchase in order to play the said puzzle levels. The difficulty levels vary, which is also a good thing. You can start with the easy levels to familiarize yourself with the game. It requires careful analysis and the process of elimination. Although there are times that the tips are not that helpful.
Dated Graphics
The graphics are not too bad but they are not that attractive either. Although the app is designed to work on mobile devices, some of the objects are still hard to distinguish. It could improve more on this department, just so it will be easier to determine the options.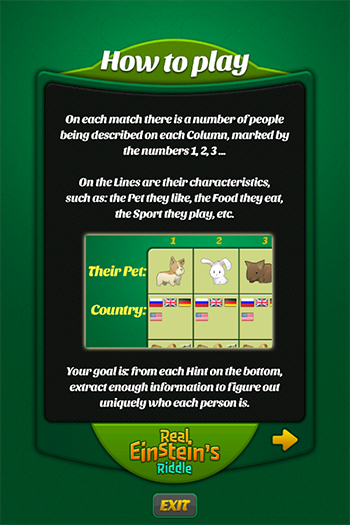 Loads of Content
There are thousands of puzzles to complete. You can play the other levels once you complete the previous levels. But as mentioned, you don't need in-app purchase in order to play all levels. If you are into puzzle games or you love exercising your brain, this is a promising app because it will give you plenty of playing time. You also have the option to play timed or untimed puzzles. This is a nice feature because you can adjust it based on your playing skills.
Free with Ads
Downloading and playing this app is free. This is good for those who prefer to play without spending anything. However, just like what you would expect on free games, it is monetized through advertisements. The consolation is that the ads are not the intrusive as other games that just pop-up anytime while playing the game. Advertisements on this app show up after playing a level. As of this writing, there is no option to remove the ads, even with an in-app purchase.
The Good
Einstein's Riddle Logic Puzzle is free to play and it can work out your brain while passing time. It has thousands of levels that don't require in-app purchase. There are also different difficulty levels that will match your playing skills.
The Bad
The app can do improvement on the graphics department because the objects look dated and some of them are hard to recognize. There are also advertisements and there is no option on how to remove them.
The Verdict
Einstein's Riddle Logic Puzzle is recommended for those who would like to exercise their brains or would love to pass time while working their brains. It may not be that great in the graphics department and it has advertisements, but overall, it's an interesting and fun game that is a must try.