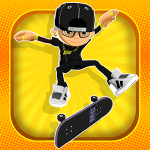 Ahoy there me hearties! It's me again yer friendly app pirate back from another adventure from the seven seas and down Davey Jones' locker. When I was a young lad, one of me favorite things to do with me friends was go skating. Aye, I was good at it! If I didn't become a pirate, ye buckos would probably know me as the coolest skater boy out there. Har, har, har! The reason why I thought about me old skater days was because of this app that I found called Epic Skater by Kongregate. Avast ye and let me tell ye about it in this review.
Good Graphics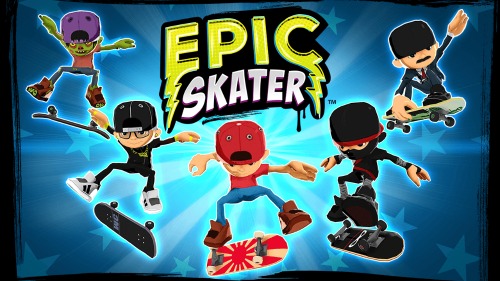 Epic Skater can compete with other endless runners like Subway Surfers when it comes to graphics. It's also made in 3D and the images are clean, smooth and vibrant in color. The character can also be customized, which is good as it would make you feel more like it's you that's really skating. The game starts from what it looks like a classroom then going out of the streets. There are trees and buildings outside. There are various signs like Epicwood and establishments every now and then, but it's mostly the trees and buildings that you would see that look similar to each other. It would have been better if there's more to see to make it more enjoyable.
An Endless Runner with a Twist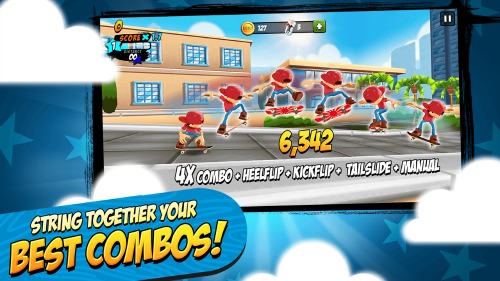 It's an endless runner because you try to score as high as you can in one round. There are also coins to collect along the way. While it may seem like another Subway Surfer clone at first, it's not. It's because you're not just swiping to avoid obstacles, but there are actually different tricks to do on your skateboard. There are 25 moves that you could combine to get a higher score. There's a how to play option that would teach you these tricks. Since they are not the usual controls that you play on other endless runner, it may take more time to familiarize yourself with them, but it's doable. This just adds to the challenge of the game.
It's Competitive
You're not just competing with yourself on getting a better score, but you would be competing with other players in the leaderboard. This adds fun to the game as you would be motivated to get a higher score so you could beat everyone and be on top of the list.
The Ups
It's cost free to play this app and although there are in-app purchases, they are not being forced to you. You can also change the character or avatar, and there are various tricks to learn and combine.
The Downs
The background is just the same and it would be better if there would be different ones so it would be more enjoyable. There are also ads, especially videos that interrupt the game.
The Verdict
Considering it's free to play, ads are normal, but it can be frustrating when a video plays and you have to wait for it. Nevertheless, it's still a fun and refreshing endless runner that you may want to download and play.