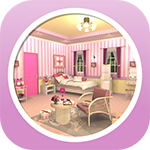 This old salt is known as a bad ass when it comes to booty hunting and swashbucklin' fights against the enemies. I will never back down on any challenge or adventure. Me and the crew are always ready on any adventure that we may face and that includes trying girly apps for our lasses out there. Speaking of girly apps, the app that I will share with ye today falls under that category. 'Tis called Escape Girl's Room by Funkyland. Batten down the hatches as we start the review.
Girly Graphics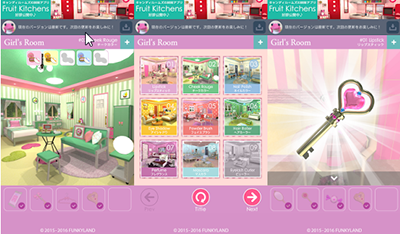 The graphics of the game is just awesome. Every room has its own theme, although they share the same colors, which are girly. The title of the app says it anyway, it's "Escape Girl's Room" so it's expected that the room will be girly. This might appeal to the female audience, both young and old. It doesn't mean though that it cannot be played by guys because it's still a puzzle/escape game; just with a girly theme.
Easy to Learn with the Right Level of Challenge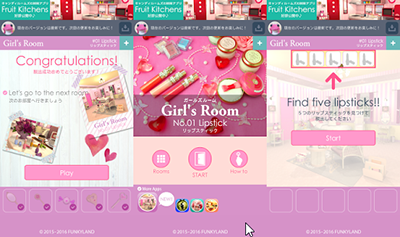 If you have played escape puzzle games before. The basic gameplay of this app is the same. However, there's a very slight twist. In most games under this genre, you'll have to find various items that you can use to find a key or escape from the room. You'll also find various items that you can use around the room, but for the goal of finding specific items that you need to complete, like for instance six bottles of perfumes. Once all the items required are found, you'll be given this really pretty key that you will use to get out of the room.
A Few Number of Rooms
There are only 18 rooms available as of this writing. This means that there are only 18 puzzles to complete in this game. This would still give you some fun playing time, but if you get to solve them quickly, there will be no more puzzles to solve, although you can go back to the previous puzzles that you have already solved and try them again. There are also advertisements that show up while you play.
The Ups
Escape Girl's Room has amazing graphics that's pretty and girly. This will attract the attention of girls, regardless of their age. The basic gameplay is easy to learn and understand, but it has the right level of difficulty that will make you think and enjoy, but at the same time will not make you feel frustrated as they are not impossible to solve.
The Downs
The graphics may not appeal to everyone because it's girly. Guys may feel awkward playing it because of its theme. It also has advertisements.
The Verdict
Escape Girl's Room is a fun escape/puzzle game with the right level of challenge. It has pretty graphics that girls of all ages will love. This may be directed more for girls, but no one stopping guys to give it a try too.