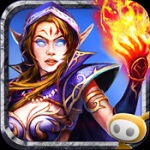 Aaarrr! Now this is me type of game. Har, har, har! Aye, Eternity Warriors tis' called and I be slashing me weapons everywhere, killin' monsters and whate'er else this pirate comes across. I be pretty sure that ye will like this app a lot. Ye lads will not be alone in taking down the enemies, as you will have a backup support. No, tis' not me parrot, it's another warrior.
This freemium app is from Glu Games Inc., the developers of popular games Gun Bros and Deer Hunter. Unleash the warrior in you in this action packed, fast paced game. It is free to download, though you can purchase additional gems and coins to buy premium items, as well as quickly upgrade weapons and unlock other levels.
The Story
Northern Udar had been a peaceful haven for human race and the elves. But after 20 years, a powerful demon is threatening to conquer the place. You will play the role of a warrior and protect your world from the evil forces. A support warrior will fight with you, which is an AI. You also have the option to connect to Facebook and add your friends in a clan. This way you can get one of your friends as support instead of an AI.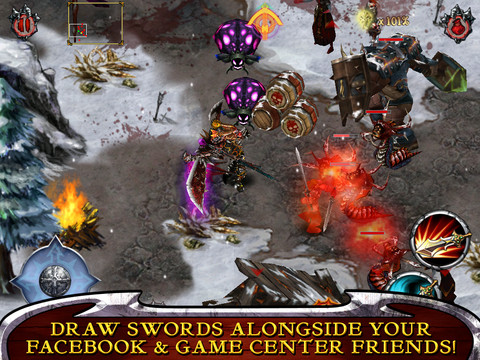 Use your starting coins in purchasing items that will help your hero become successful in the battle. Since you are just starting, you can only wear those that are for level 0. More items and upgrades will be available as you level up. There will be hoards of monsters to take down. The control on the left will let you move your hero, while the buttons on the right are for the weapons and attack.
Kill as many monsters as you can so you can exchange the soul for coins. These coins can be used for purchasing more powerful items, as well as for upgrades, which are helpful on the higher levels. After taking down all hoards of monsters on the first level, the next level will be unlocked. It is recommended that you get a speed weapon and a big weapon as alternate weapons. This is because speed weapons can take down fast moving enemies easily, while big weapons can take down hard to kill enemies.
Coins and more Coins Required, But Gems are Better
Coins are used for purchasing items, as well as upgrading them. Gems are the premium currency used for buying premium items. If you think that it takes time for you to collect coins and gems, you may purchase them with real money. Aside from purchasing items, you can also use them for unlocking other levels without completing the lower ones. But this is optional so it's really up to you if you want to make an in-app purchase or not.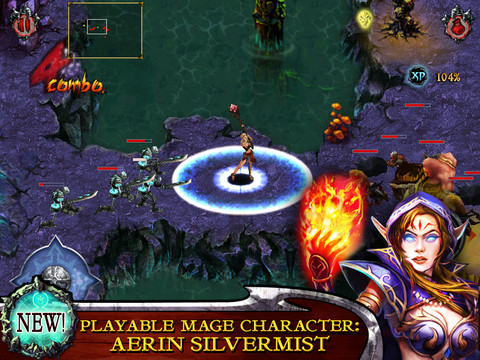 However, there are other ways on how you can earn more coins without spending cash. Go to the tavern and log in with your Facebook account to invite your friends. This will gain you more coins. Liking the game's page on Facebook, as well as following its Twitter will also earn you coins. Free gems can be earned by watching video ads on the app, as well as taking surveys and subscribing to the sponsors.
Conclusion
The graphics and sounds of the game are superb and the game is free. As you move on, it becomes more and more challenging and you feel more motivated to vanquish evil forever! Upgrades and new items will be unlocked but you will have the same background and set of enemies, which can get boring in the long run. Nevertheless, this is a great hack and slash game for your mobile. This sticky old Pirate definitely gives it the thumbs up.