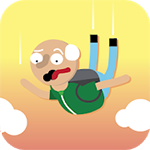 Yo, ho, ho and a bottle of rum! Avast ye me lads and lasses! The crew and I are headed to this island that we saw on a map. We found this map on one of our dives and it was inside a treasure chest. It will still be a long sail and the other buckos are there drinking rum and having fun. I will join them in a bit but before that, of course me won't forget to give ye hearties an app review. For this day, I will share to ye an app called Falling Grandpa by Westnamics. Let's begin.
Clean graphics, fun music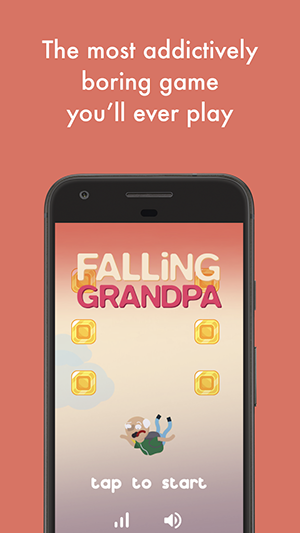 The graphics is basic but it's clean. It refreshing to the eyes because there is not much going on that you can appreciate even the tiniest detail like the cartoonish grandpa that really looks like an old man. Aside from the grandpa, there's a light background with blue clouds. There are also the gold coins that you need to collect and the red moving saw that you need to avoid. The background music is also fun and it works well with the game, giving it a livelier feel.
Simple gameplay but addictive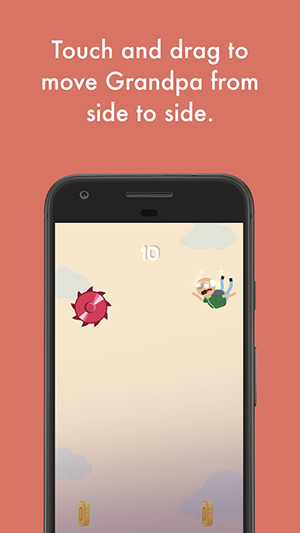 The gameplay is basic. You need to touch and drag left or right on your screen to move the grandpa. It needs to collect the coins, while avoiding the saw. Hitting the saw means game over. It's like endless runner games, but instead of running, the character is falling. The main goal is to survive in the game as long as you can to get the highest possible score. It can be addictive because you would want to try and try to beat your previous score.
Comes with leaderboard
It has a leaderboard, which adds to the competitiveness in the game. You want to do better each time for a chance to be included in the leaderboard or better yet to be on top of it. You need to be connected to the Internet in order to check this feature.
Free with non-intrusive ads
Falling Grandpa can be downloaded for free. It comes with advertisements, which is understandable to free apps. The good thing about this is that the ads are non-intrusive. You may see them but they do not negatively affect the entire game experience.
Thumbs up
This app is free to download and it has non-intrusive advertisements. It has clean graphics and interface, and the background music is fun. It comes with leaderboard and it is also addictive.
Thumbs down
Being addictive may also be considered as a con since you might find it difficult to put your phone down if you get hooked.
The verdict
Falling Grandpa is recommended if you are looking for a game that you can play over and over. It has an addictive side to it as you would want to beat your own score each time and be on top of the leaderboard. It's also free and you will not be bombarded by pop-up advertisements.