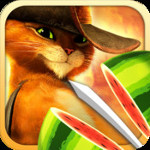 Even in me travels and adventures, I have heard of the bandit Puss in Boots. This lovable cat from the Shrek franchise has now risen to fame and he be in a new game called Fruit Ninja: Puss in Boots. This time he is the star of the title and back in more adventures, which is what I love about me games.
Most young bucks that I know have played the Fruit Ninja game at one point or another. It is very simple, has an easy game play as well as eye-popping graphics. Now the game is back in the newest installment featuring Puss in Boots. This game will surely shiver your timbers from the non-stop action.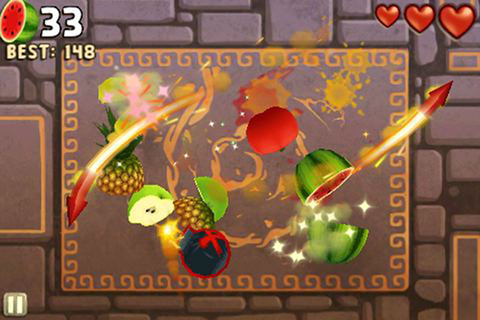 The Game Features
Even with the new version, the game pretty much still remains the same in terms of style. If ye have ever played the older titles before, you can expect that the game still looks the same. The only difference is, a lot of flavor has been added to feature Puss in Boots.  For instance, there be two gaming modes now that have different names. "Classic" is now called "Desperado" whilst the Gauntlet mode is now "Bandito".
Another difference you be able to spot is the new background. The wall has been changed and some of the fruits have new looks as well. Other than that, Fruit Ninja is still steady as the holystone.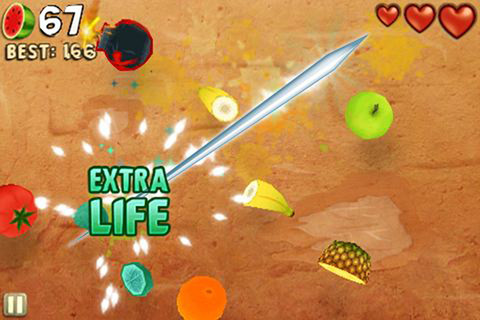 Game Play
Now this is all that matters, isn't it? Fruit Ninja: Puss in Boots will not have the same belay if the game play has been changed. Aye, no need to worry my mateys. If you loved the previous versions, then ye be loving this app even more. So the game play is exactly the same as it was before. Fruits get flown up in the air and you will slice them all to pieces. The faster and more accurate you do it, the more points you will be able to get.
Of course, who can forget the other part of the game? Ye also be needing to avoid bombs as this will cost a life on your part. Now if in the past you would gain another life by scoring the a hundred points, in this version that would only happen if you be able to slice the magic bean. If you be unable to slice it, you gain no quarter my heartie.
If the Desperado mode wasn't enough, Bandito will surely have you at the poop deck on your dungbie from the sheer excitement. This gauntlet scenario gives ye multiple challenges that all have their own degree of difficulty. You are not allowed to fail in this mode, simply put. Ye fail thrice, you lose. Don't forget, there is still a time limit so being too slow will also cost you a life. Fruit Ninja: Puss in Boots remains to be a game that will test reflexes and how quick you be with your eyes. In my case, just one good eye will do.
Worth Downloading?
Even if you have not played any of the previous installments of Fruit Ninja, ye be able to enjoy Fruit Ninja: Puss in Boots. In the event that you have played the others in the past and have grown weary, having Puss in Boots featured in this new title will give you a refreshing and invigorating thrill like setting sail for the first time.
The app costs $.99 in the App Store, which is pretty cheap if ye ask me. Well, I have a treasure chest to give me all the things I want so there are no problems on me end to spend on apps. Good luck and have fun!