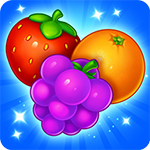 Ahoy there me lads and lasses. It's me again yer friendly app pirate ready to give ye another dose of yer most awaited app review. Me and the crew had a booty hunting adventure on this island. Ye wouldn't believe how gorgeous it was! Lush green trees, clear sea, and adorable animals, and lots of fruits! Aye, our tummy was full 'acause there was plenty! These fruits inspired me to write a review 'bout this app called Fruits Match by Gamoper. Batten down the hatches as we will now begin the review.
Easy to Learn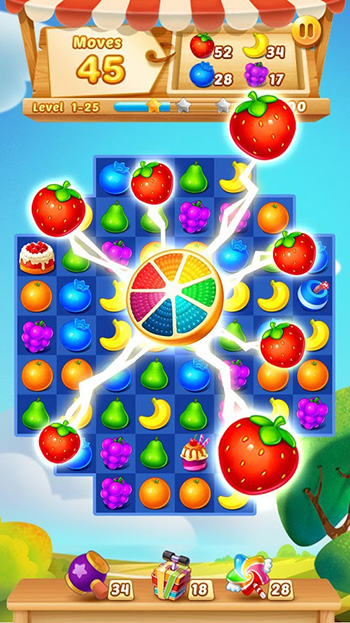 It's not difficult to learn the basic gameplay of Fruits Match. This makes it an app that can be played by players of all ages. From kids to adults, they would easily learn the general concept of the game. Like other match 3 games, you need to match 3 or more of the same fruits to earn points. There are specific numbers of fruits to remove for each level, which you need to complete using the given number of moves, in order to move to the next level. Those who are already familiar with this type of game will know immediately how it's played.
It's Fun and Addictive
Although this is a simple game, it's still fun because of its cute graphics and the challenge that it brings. You will feel at firs that the levels are easy to complete, but when you get to the higher levels, it gets more difficult to complete the goal. This also makes it addictive because you would want to move to the next level and earn as high points as you can.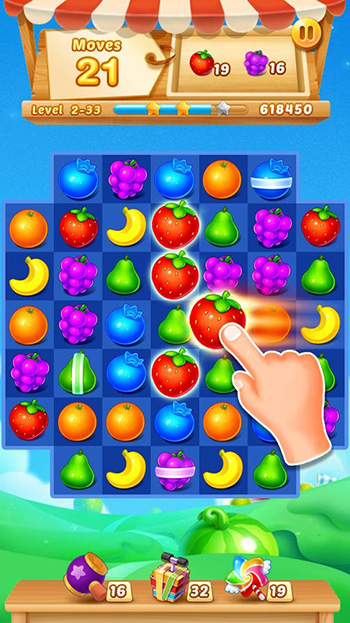 Great Graphics
The developers did a fantastic job when it comes to the graphics of the game. The fruits have vibrant colors and they look appealing. The animation when multiple fruits are matches looks magical too because of the different colors. Even the boosters at the bottom, which include a purple hammer with a star, a colorful box, and rainbow colored star with wings that look like a lollipop, are all eye candies.
It Has Advertisements
Fruit Match is free to download so you don't have to spend cash to get it. It comes with in-app purchase, but it's still up to you if you want to purchase as you can still keep playing the game without it, although you have to wait for some time to get more lives, and to collect boosters.
The Ups
It's easy to learn so it's something that can be enjoyed by everyone, whether young or old. The graphics of the game is also fantastic. You'll enjoy the vibrant colors and various fruits and objects that eye-candies. It's also free to download.
The Downs
It comes with advertisement. A minor drawback is you also have to wait for lives to be available once you used all of them, unless you don't mind making an in-app purchase using real money.
The Verdict
Fruits Match is a fun and addictive game. Considering it's free, the advertisements are forgivable, so it's recommended that you give this app a try, especially if you're into match 3 games.