Yo, ho, ho and a bottle of rum. Yer favorite app pirate is back again from another fantastic booty hunting adventure! We survived diving Davy Jones' locker and ayt, we got loads of gold coins and other treasured to bring back the ship. That called for a celebration 'acourse, so we got drank! Har, har, har. This buccaneer is sober now, so don't ye worry me lads and lasses, I didn't forget yer dose of app. Today, I'll share with ye this casual game called Fun Pet Waterpark Aqua World from Top Girl games. Avast ye and let's begin with the review me hearties!
Cute Graphics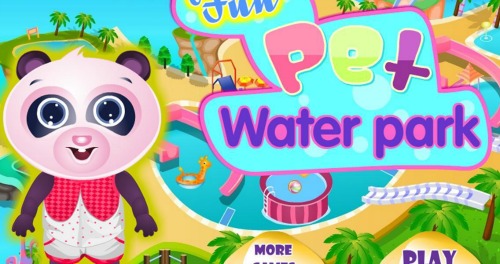 The first thing that would attract you to try this game is the cute graphics. Most of the colors are light and pastel like pink, purple and light blue. The waterpark is equally adorable and there are different areas to check out. The restaurant has different menus that the you would see the Panda eating. The Panda looks okay, it looks nice, but it's not really something that would make you wow, especially if you are more into 3D games. Nevertheless, the graphics is still pretty and an eye candy.
More for Kids
The game is more towards for kids. If you are looking for an app to add on your mobile device that you want your kids to enjoy, then this would be a good option. It may not really be interesting to adults as it's not something that may fall under the genre that most grown-ups like. This would surely keep the younger ones occupied though.
Would Work as a Time Waster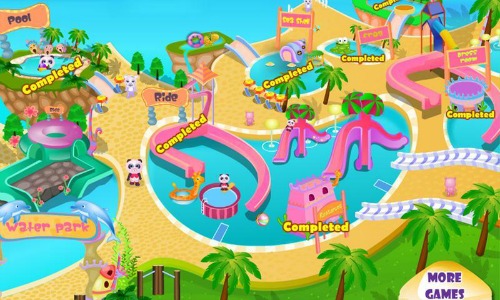 Although this is something that may be interesting to adults, it could still be a time waster as there are various mini games to play like wack-a-mole. Again, they are games that you may not really be into, but they would do if you're bored and you've got nothing to do.
The Good
The graphics of this game is pretty and it's nice on the eyes. There are six mini games to play that kids would love. It's casual and doesn't really need guide to learn how to play as it's very straightforward. It would keep you occupied when there's nothing else to do.
The Bad
It's not something that everyone would be interested in as it's more designed for kids. Parents or guardians who want the kids to keep busy and entertained would find this app helpful. However, if you're an adult who's looking for a game that you could play for yourself, there's a slim chance that you would like this since it's really more for kids.
The Verdict
Fun Pet Waterpark Aqua World is recommended if you're looking for an app that your kids could play. It has six mini games to keep them occupied, aside from the cute graphics that they would love. However, if you're an adult looking for your game, this may not be the app for you, although you may still enjoy some of the mini games during down time.