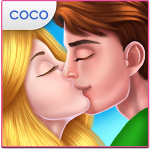 Yo, ho, ho and a bottle of rum! Aye, it feels like I drunk too much rum me lads and lasses as it would make ye laugh what kind of app this old salt tried to play today. It's some sort of a dress up, role playing game for girls! Har, har, har. Well, ye know this bucko would go crazy from time to time and do things that outside the character of a true pirate. Arrrrggghhh. This app that I would share with ye today is more for the lasses out there. 'Tis called High School Crush – First Love and 'tis from Coco Play by TabTale. Avast ye me hearties and let's begin with the review.
Super Cute Graphics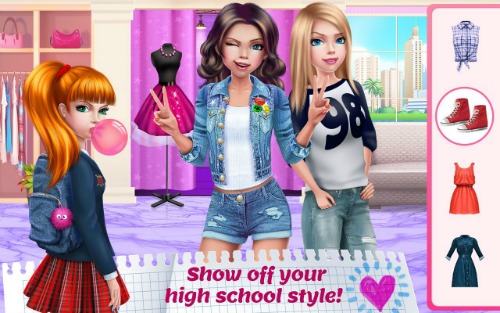 High School Crush – First Love is a game for girls. The graphics would make their jaw drop and they would feel very excited because it's quite girly and pretty. From the map of the neighborhood where you could tap on the specific place where you wish to go like the mall or school to the characters and details of the specific areas, everything was created excellently. The colors are lively and the attention to detail is superb.
Swift Animation
It's not just graphics that you would be impressed on, but the animation or how the characters move. It feels like they are real people. The game is made in 3D so even if they are not real, their smooth move would make you feel that they are. There's even this scene where you would be invited to the prom by a guy in your school and you could mix and match various dance steps that were inspired by real life dance moves. When these moves are combined, it's cool to see your characters and the boy you're dating dance on the stage with the combination of moves you put together.
So Much to Explore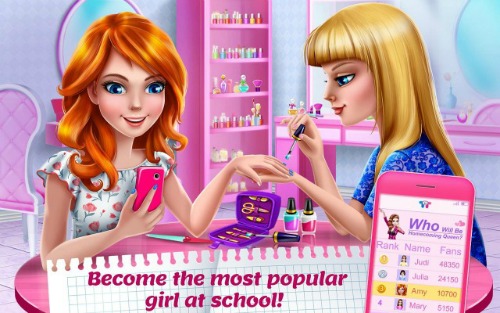 This is an ultimate game for girls who are into dress up and role playing game. There are several outfits and accessories to choose from and it's easy to try them as it would only take a single tap. Unlike other games like this, it doesn't take time to load so you would see how the dress looks like instantly. Aside from dresses, you could also put on make-up, apply nail polish and have your hair done. You'll get to unlock more options as you progress in the game. In-app purchase is available to get to certain areas or unlock items earlier.
Thumbs Up
This game has one of the best graphics that you could ever see. Girls who love dress up and role playing games would love this because it has everything that they might be looking for that they could typically get from different games like make-over, dress up and simulation.
Thumbs Down
Video advertisements pop-up constantly, which can be frustrating. This is not for everyone as it may only be interesting to girls who are into this type of game.
The Verdict
The ads that pop-up could be annoying, but if you really like dress up and simulation games, you could get them all in this app. You would love the graphics and all the available makeover options.