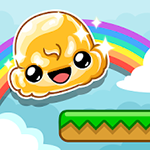 Yo, ho, ho and a bottle of rum! Ahoy there me lads and lasses! It's yer favorite app pirate ready for another exciting treasure hunt with the buckos. We are chilling a bit because the sun is too hot than usual. We still have a few hours anyways before we reach our destination. Since the temperature is high, what better way than to cool it down with the yummiest ice cream! Aye, we buccaneers are not just into rum, but ice cream too. We have lots of stocks in the good old Jolly Roger. It's hard to pick just one favorite flavor because we love them all. Speaking of ice cream, the app that I will share with yet today is called Ice Cream Jump by Retro Dreamer.
Charming graphics and fun music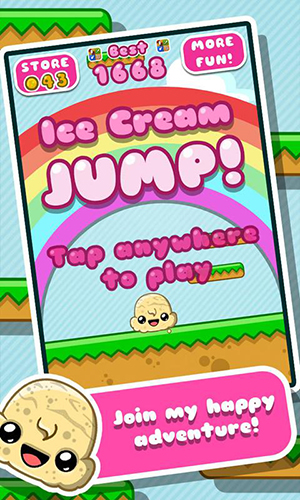 The main character, which is the ice cream, is adorable. The background is the sky, with floating bars. There are also coins and power-ups that you can collect along the way, as well as flies and other obstacles that you need to avoid. Earn more coins and you can unlock things that your ice cream can wear to make it even cuter. You can also get other ice cream characters and choose which one to use every time you start. The background music is also upbeat and fun, but it's not distracting, so you can enjoy playing while listening to it.
Easy to learn but hard to master
If you have played casual jump games before, you will immediately know the basics of the game. Although it's simple to learn, it is still challenging, especially when you get to the part where there are more moving bars, and there are more obstacles to avoid. The goal is to reach as far as you can in the game and beat your friend's or your own score for bragging rights.
It's free to play without too much ads
The game is free to download. Although it comes with an in-app purchase, you will not feel that you are forced to use real money so it is not that difficult to earn coins and unlock items and characters. While there are advertisements, they are not intrusive, so you can still live with them and enjoy the game, especially it's free.
It can get repetitive
If you are the type who wants a variation, it may be for you. It would be the same gameplay over and over, so you could find it repetitive after a while.
The good
Ice Cream Jump is free to play. It may come with ads but it's not too much. It has adorable graphics and fun music. It's simple to learn, but also comes with challenge.
The bad
It can get repetitive since it is the same gameplay over and over.
The verdict
If you are looking for a fun way to kill time, Ice Cream Jump is for you. You can keep playing as long as you want and attempt to beat your own previous score. You will also enjoy seeing the cute characters and listening to the lively music as you play.