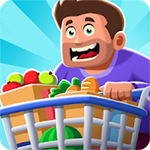 Yo, ho, ho, and a bottle of rum! Here's yer friendly pirate getting ready for another booty hunting adventure with the crew. 'Afore the good old Jolly Roger sails again, we went to the supermarket to stock up on the things that we will need for our journey. Aye, we don't just eat fish and any other sea foods that we catch, but we also have a nice stock of a variety of foods in the ship. Me love grocery shopping! I check on each aisle even when I don't have to buy anything. Har, har, har! Since me grocery shopping experience is just recent, this bucko decided to give you an app review that is related to it. Batten down the hatches as we start the review of the app Idle Supermarket Tycoon by Codigames.
It's Intuitive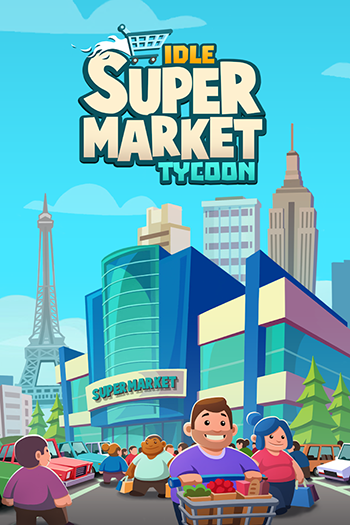 This is similar to other city building and farm building games in a sense that you need to start from the basic and eventually grow, while making various upgrades. The difference is that instead of building a city or farm, you will be growing your own supermarket. This simulation game will give you an idea on how the real thing works, and at the same time, it will test your managing and decision making skills as you will overlook everything from the upgrades to hiring employees. This game can be quickly learned even by those who are new to playing this type of genre because it's intuitive.
It's a Winner in the Graphics Area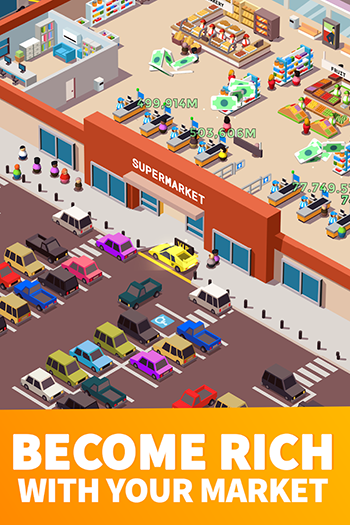 The game is colorful and high quality when it comes to the graphics. You will not just have a feel of what's happening inside the supermarket, but the busyness of the street with all the people walking and cars parking. It's also nice how you see the supermarket go from being almost empty to having more items to offer, as well as having more customers. It is also not just set in one place, as there are various locations available where you can open a new branch.
Lots of Contents to Unlock
It will keep you looking forward for more because of the contents that you can unlock, especially if you are just starting to play the game. You can add more items in various sections of the supermarket including meat and fruits. Even the parking space can be upgraded to offer more parking spaces, which also means more customers. This is also true with the employees that you have. More employees mean serving more clients that will eventually lead to more income.
Gets Slower in Higher Levels
As mentioned, the first few levels are pretty quick. However, once you reached higher stages and you unlock a branch in another location, this is when the game would start to slow down. It takes time to collect the money that you need to upgrade. There are videos that can also help you gain more money, but they would not be that much help on the higher levels.
The Good
Idle Supermarket is free to download and it has amazing graphics. It is also intuitive and there are lots of content to unlock. Upgrading seems fast in the first levels.
The Bad
The game will start to slow down on higher levels as you will need money that is not easy to collect.
The Verdict
Idle Supermarket is recommended for those who are into supermarket simulation game or those who are looking for a casual game to pass time. Progress may be slow in the other levels, but if you just want something that you can check every now and then, this is for you.