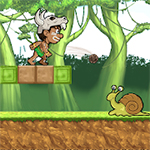 Ahoy there me lads and lasses! Yer favorite app pirate is back from another adventure around the seven seas. Aside from diving deep down the ocean for some booties, me and the crew also explore islands and jungles to find treasures. There we find various trees, fruits and plants, as well as different animals and insects. Those things make the adventure more fun and exciting. The app that we have for review today also has the same feels. It's called Jungle Adventures by Rendered Ideas. Batten down the hatches and let's start.
High quality graphics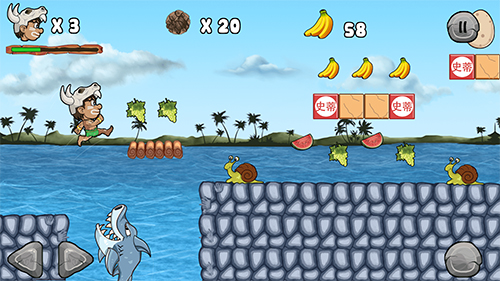 The game has cute graphics that is clean and fun to see. As the term suggests, the app is set in an island, so expect to see trees, water, and fruits. There are five different characters to choose from, although the main character is Addu, who looks like a jungle guy from the ice age. It will also somewhat remind you of the classic game Super Mario as there are bricks that you can jump on, objects to collect, and obstacles to avoid or hit. The background, bosses, and other things that you see will change in various worlds, which is a plus, since it gives variety to the game. However, there are levels where the images are too close that it's hard to see what's ahead of you.
Free but with many ads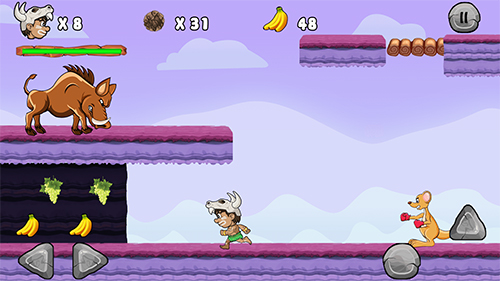 You can download and play the game for free. You can also play it both online and offline. Like most free games, this too has advertisements and the drawback is that there can be too many on this app. That takes away the fun in the game because they distract you from your focus.
Smooth controls
One of the good things about this game is that the controls are smooth and responsive. There's a left and right arrow that will let you walk to the direction that you prefer. There's also an up arrow that allows you to jump. The round button that looks like a rock is to throw stones and hit the enemies. They are intuitive, so you would know right away what they are for. Plus, they work as designed so you will have no trouble directing your character on what to do.
Several levels to play
As of this writing, there are over 80 levels to play that are fun and challenging, so you can expect long period of enjoyable gameplay. Since you can play it offline, you can continue the game wherever you are, or whenever you wish to play, even when you don't have Internet connection.
Thumbs up
Jungle Adventures is free to play and it has high quality and cute graphics. It also has intuitive and smooth controls. There are several levels waiting for you to play.
Thumbs down
There are levels in which the game window is too focused that it's hard to see what's ahead of you. The advertisements can also be annoying.
The verdict
Jungle Adventures may have it share of drawbacks, but it also has its positive sides like its excellent graphics, intuitive and responsive controls, and fun gameplay. It's also free and you can play it even while offline.