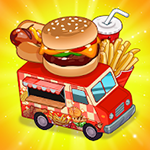 Yo, ho, ho, and a bottle of rum! Ahoy there me lads and lasses! Yer favorite app pirate is back again to give ye another app review, that me know you buckos have been waiting for. Ye know how this old salt loves it in the kitchen. Aye, even when I'm tired from diving down Davie Jones' locker or exploring islands for some booties, me still got energy when it comes to cooking. It's not only in real life that me love preparing foods, but when playing games too. Har, har, har! So, batten down the hatches me hearties and let's begin.
It has the same gameplay as the first installment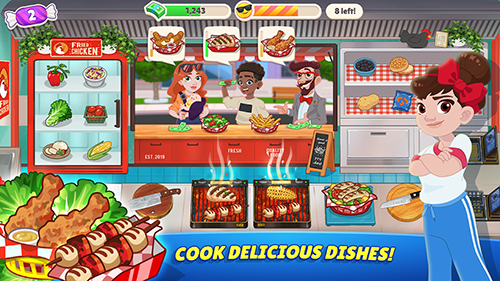 Kitchen Scramble 2: World Cook is the sequel to the app called Kitchen Scramble: Cooking Game, from the same developer PopReach Incorporated. If you have played the game before and you completed all levels, this is the app that you are waiting for. It has the same gameplay as the previous game that lets you prepare the food ordered by customers and serve it to them as fast as you can, without overcooking them, to earn as more money as possible. There are new customers to serve, as well as new ingredients, appliances and menu to unlock and upgrade.
Graphics are equally gorgeous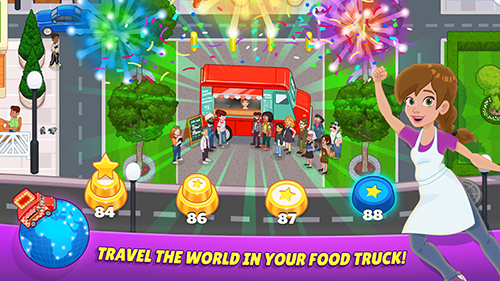 You will still be serving foods from a food truck, and the main character of the game, Pepper, is still there. There's also her mentor Chef Crisp to continue guiding you about the new foods that you need to serve. Instead of different city location, you will now be selling to different countries around the world and the dishes that you will serve will depend on the place that you are currently in. There are also different customers, but there are times that the same person will order several times in a row, or someone that looks exactly like him or her will order. It would be more fun if there are more variety of customers.
Limited number of levels as of this writing
The game is also free to play. If you are looking to have fun without spending anything, this is a promising option. However, as of this writing there are only limited levels that you can play, as there are only 4 worlds available. Once you finish all levels, you will be in the waiting game, just like the other players who easily finished all levels.
The good
Kitchen Scramble 2: World Cook is free to download and play. It's easy to learn, but challenging enough to keep you occupied and interested. It has gorgeous graphics and there are various recipes and locations to unlock.
The bad
There is only a limited number of levels to play as of this writing. If you are quick to finish the levels, you will end up waiting for more levels to come out.
The verdict
Kitchen Scramble 2: World Cook is a fantastic sequel for Kitchen Scramble: Cooking Game. If you have completed the first installment, it's the next one to try. You can also play it first, although it only has limited levels.