Ahoy there me hearties! It's me again yer favorite app pirate ready to give ye another app review 'afore we go sailing the seven seas. Me parrot pet had been with me since I started sailing with the crew in the good old Jolly Roger. It's been years and this old salt could not remember how long it had been. But I remember that me found me parrot pet in one of the island that we landed in. Since I was a little lad, I was already very fond of animals. Aye! I even had pets at home and one of them was a cat. The app that I will share with ye today reminded of me old cat pet. The app is called KleptoCats by HyperBeard.
It Has Adorable Graphics
This app is from the same game developer as another popular casual game Clawbert that has a cute cartoon graphics. They didn't disappoint when it comes to the graphics of this game because it has the same cartoon like features like their other games. The game starts at the bedroom where it has the bed and shelves. There are no other things in there so it's basically empty. However, this room will be full of things scavenged by your cats as the game progresses. There are also more rooms to unlock so you're not just limited to the bedroom. Moreover, you can customize the look of your cats by purchasing items on the boutique.
Comes with Mini Games
You really don't have any control on what your cat pet can find when you send it out and the items it find will be randomly placed in the room. It would have been better if you can organize them or place them at the area you like. Aside from sending your cat out, you can also feed and pet it, which doesn't cost a coin. This will increase its happiness and according to the game, bring you better finds and coins. It also comes with mini games, which is good as there's something you can do to keep you from being bored when waiting for your cat to return.
Coins are Not Difficult to Earn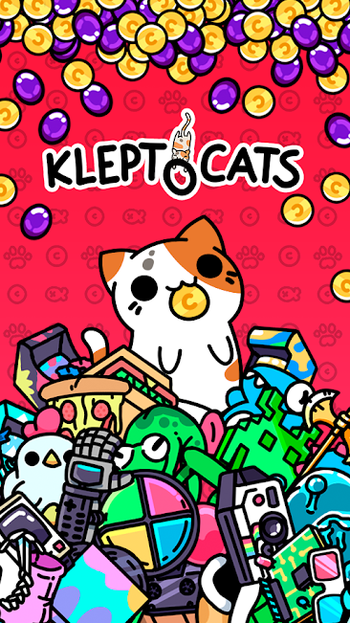 Unlike other free games that make it difficult to earn free coins, this one is surprisingly different. At first, you'll think that it's hard to earn coins as you only get some when your cats bring them. However, when you already have access to the mini games, it will be easier to earn coins. There are also daily rewards that would not just let you earn coins, but the premium currency, although you have to play consecutive days to get them. At least, there's a chance to get premium currency, which is very difficult on other free games, unless you use real cash.
The Pros
KleptoCats is free to download and play. It also has adorable graphics with cat pets that you can customize. The app comes with mini games to keep you entertained, and at the same time earn you more coins. It also gives you a chance to earn premium currency without spending real money.
The Cons
You don't have control on what your pets will bring you as you don't really know where they are going. Plus, there's no option to move the items your cats found. They are just randomly placed in the room.
The Verdict
KleptoCats is a fun casual app that we recommend for you to try. It may have a few drawbacks, but generally, it's enjoyable to play. It's also free to play and the coins and premium currency can be earned without spending real cash.