Ahoy there me hearties! Yer favorite app pirate is here again to give you another dose of app review, fresh from the seven seas. I remember when me and the crew got addicted to match 3 games, especially Candy Crush. We spent countless of sleepless nights trying to level up. There were even times that we spent our booties to get more lives to continue playing. The app that I will share with ye today brought back those fun times. 'Tis called Lollipop: Sweet Taste Match 3 by BitMango. Avast ye as we start the review of this free to play app.
It's Familiar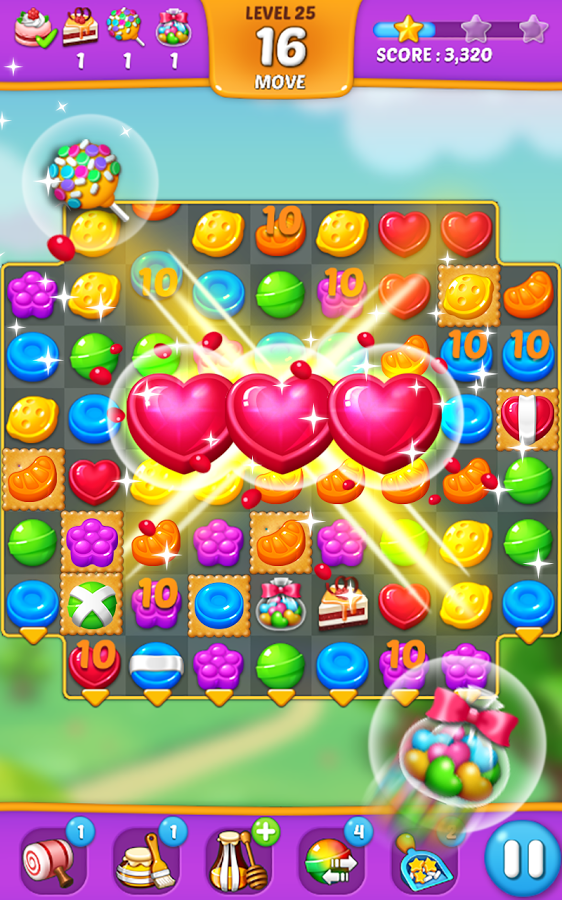 If you have Candy Crush or any match 3 games before, you will become instantly familiar with this game. The basic gameplay is the same, in which you have to match at least 3 of the same candies using the limited number of moves given until you complete the goal for the level. What's different about this is that it has unlimited lives, it can be played offline, and it doesn't have time limit. There are hundreds of levels to complete, so you can play as much as you want.
Gorgeous Graphics
The graphics of the game is magnificent! The candies are bright and rich in color. They are an eye-candy! Some of them look exactly like some of the candies in Candy Crush, although there are still some candies that are unique to this game. Nevertheless, the images are cute and the overall interface is clean and attractive.
Fun Sounds
It has this fun background music that's subtle and nice to listen to. It wouldn't remove your concentration on the game, instead it makes it more interesting. There are also sound effects that add to the excitement of the game. You will feel more into the game when you hear that distinct sound of candies being matched, and the voice over saying that you did a good job.
Unlimited Lives
Most match 3 games have limited lives. You need to wait for a specific amount of time to replenish your life, request one from your friends, or purchase using premium currency. Those who are addicted to this type of game will be happy to know that they can play as much and as long as they want as it comes with unlimited lives.
Difficult High Levels
There are over 200 levels of puzzles to complete and the higher the level gets, the more challenging they become. Some of the higher levels are so difficult or even impossible to solve without using boosters. If you have used all your boosters, you may end up playing the same level over and over again, or you may be forced to make an in-app purchase.
The Ups
This game is familiar and it has a basic gameplay making it applicable for all age levels. It has fantastic graphics and fun sounds. There are hundreds of levels to solve and it comes with unlimited lives. There are also no levels with time limits.
The Downs
It has advertisements and there are levels that are impossible to beat without using boosters.
The Verdict
If you love match 3 games, this one is a must try. It's fun and it offers unlimited lives.