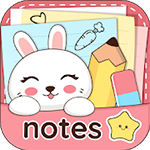 Yo, ho, ho, and a bottle of rum! Ahoy there me lads and lasses. Are ye ready for another app review? Yer friendly app pirate is ready to give ye one as we are on a break after booty hunting on several islands for the past days. Aside from finding treasures, this bucko has loads of other things to do like cook, clean the good old Jolly Roger, play with me pet, and of course, write review for ye mateys. Being organized on me to do list is very important so me don't forget anything. If ye are like me who needs to be organized with their tasks, this app review will be helpful for ye. 'Tis about a note app called Niki: Cute Notes by Webelinx Love Story Games.
It's Cute
This app does the basic thing that it is designed for an even more. As a note app, it of course lets you create different notes like tasks or lists of things to do or things that you wish to be reminded of. You can create as many as notes as you can and easily edit them to add more or eliminate anything on the list. However, if you are just looking at your list, you still need to go to the edit mode in order to do this. There is no view list option as of this moment. What makes it different from the basic note apps is its cute graphics and options! Those who love fun and eye-candy apps on their devices would be happy to have this.
It's Customizable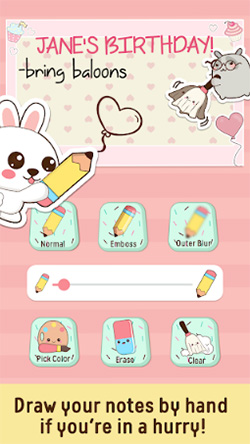 There are various backgrounds to choose from, as well as stickers to decorate each note, which can also be placed on the home screen. This is helpful especially for those very important notes that you don't want to miss. You can use pictures on your phone as backgrounds. Another good feature about this app is the alarm. There is no need to use another app to set an alarm as this one already offers that.
Easy to Use
There is no need for a tutorial to learn how to use the app. It's well designed so you'll know immediately what the options are for. It's intuitive that even non-techies would quickly find their way around the app and be a pro in using it in no time.
Free but with Ads
This app is free to download, but there are lots of advertisements that come out frequently. As of this writing, there's not even an option to pay to remove the ads. If you can live with the ads, then you won't have problems using this note app.
The Good
Niki Cute Notes lives by its name. It lets you create really cute notes with the different adorable backgrounds, stickers, and font styles to choose from. It's free and it's also easy to use.
The Bad
It has a lot of advertisements and there's no way to remove them as of this moment. The font size cannot be adjusted.
The Verdict
Niki Cute Notes will meet the expectations of those who are looking for a cute note app. It may have ads and the font size cannot be adjusted, but its positive sides outweigh the drawbacks.