Ahoy there me lads and lasses! Yer friendly app pirate is back for another booty hunting adventure with the crew and me parrot pet. We still have plenty of time before we touch down our destination. It's a dangerous island that is known to have buried gold and other treasure. All buckos are excited and we can't wait to start the hunt. Since me still have a lot of free time, this old salt decided to write a review for ye hearties. Batten down the hatches as I will introduce to ye to an app called Onnect by Chef.gs.
Eye-catching graphics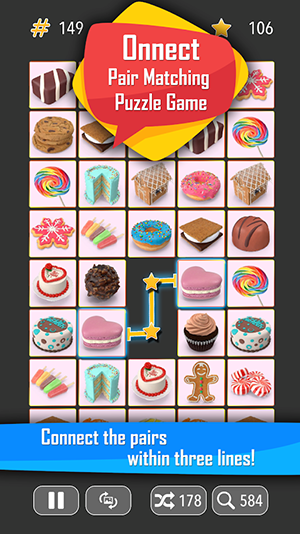 Job well-done for the developers when it comes to the graphics of the game. There are different objects to match on each level, so you will not be bored on the things that you see. Some of them are various desserts, vehicles and flags. They all stand out in color and they are clear so even if you have a small screen, it will not be hard to determine what they are. On the top of the game window shows what level you are in, the timer, and the starts you collected. The user interface is straightforward so it will be easy to navigate and you will be easily familiar with it, no matter what type of player you are.
A different twist on match game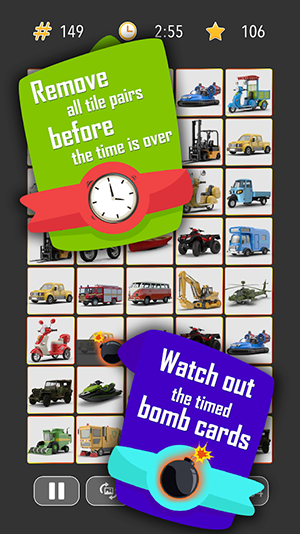 Like other match games, you will still need to find 2 or more similar objects and connect them. However, this one offers a twist because the items don't have to be next to each other. You can connect similar objects using up to three lines as long as there are no other objects blocking the path. It's something fresh to try, especially if you love match puzzle games but want a variety.
Free but with excessive ads
You can download the game for free and also play it without spending anything. There is an option to make an in-app purchase, although you will not be forced to do that. You can continue playing the game without buying anything. While most free games have ads, this app has too many of them and they also last long. You have to watch them and that can take away to the game experience. You can pay to remove the ads but the price is too high and it's not even a one-time fee but a monthly fee.
Thumbs up
Onnect is a free app that you continuously pay without spending any money. It has amazing graphics and straightforward user interface that is easy to understand. It also offers a fresh twist to the match puzzle game.
Thumbs down
There are too much advertisements and they last long to watch too. It costs high to remove these ads and it is also a monthly, not a single purchase.
The verdict
Onnect is a fun and easy to use app that will keep you occupied. It's an enjoyable game especially it has fantastic graphics. There is a right level of challenge with a limited time. There may be several ads that you need to live with, but other than that, it's a nice game to try.