Yo, ho, ho, and a bottle of rum! Me and the crew are about to sail the seven seas again for another booty hunting adventure. Don't ye worry as I didn't forget to prepare an app review for ye me hearties. What do ye usually do when ye get bored? Me? I do random things like tossing paper on the trashcans just to pass time. Well, that's a bit hard to do in the ship when sailing, especially when there are big crazy waves. Good thing this bucko found this app called Paper Toss by Backflip Studios, Inc. It's only a few moments 'afore we start sailing so let me start this review now.
It's Simple But Challenging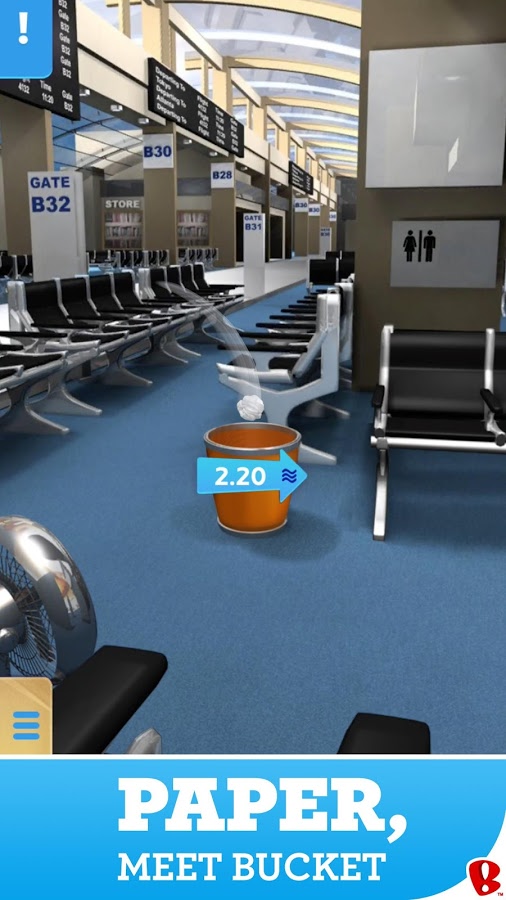 You have probably tried tossing paper on the trash before out of boredom or to test your accuracy in throwing the paper in the can. This is where the app Paper Toss got its inspiration. It has the same goal, which is to shoot the ball of paper inside the trashcan, but of course instead of using real things, it will be done virtually. The gameplay is pretty basic as you just need to swipe on the direction where you wish to toss the paper. It wouldn't be that easy to complete the goal as there's the wind factor that you also need to consider.
Various Difficulty Levels
There are different difficulty levels, including easy, medium, and hard. This is a good feature as you can play base on your playing skills. Beginner can start playing the game with the easy level and progress to the other levels. Another good thing about this is that if there are multiple players in the device and they have varying skill levels, they can access the level that's appropriate for them anytime. There's no need to unlock the other levels are they are readily available.
Different Settings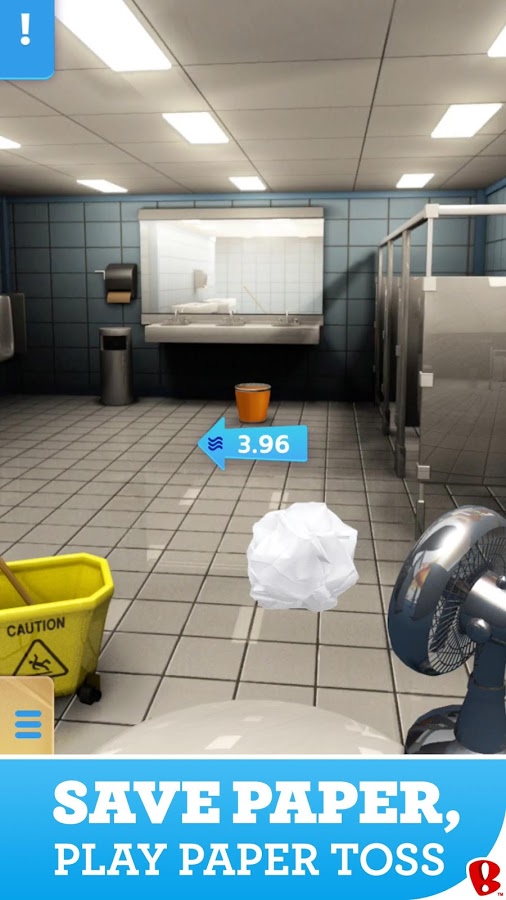 Another good thing about this app is that comes with various settings. While the easy, medium, and difficult levels are set in the office, you can find other options that will let you play on other settings like the airport, basement, restroom, pub, and street. This is a good feature as changing the environment will give that fresh feel on the game. The gameplay is still the same, but you are seeing a different background, which gives it variety. Paper Toss is free, but it comes with advertisements, which can sometimes be annoying as they pop-up.
The Ups
It's free to play and easy to understand. Although it's a basic game, it is also challenging so it is not just a casual game to pass time, but you can genuinely enjoy playing it. There are different difficulty levels for all types of players and various settings that make the game more interesting.
The Downs
There are pop-up advertisements that can be annoying. You will also always be asked to log in on Facebook when starting the season mode.
The Verdict
Paper Toss is a simple game that has a few flaws, but overall, it's fun and challenging so it's recommended that you give it a try. It's also free to play, although you can make in-app purchases if you want.