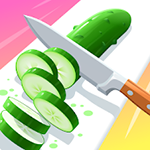 Ahoy there me lads and lasses! Yer friendly app pirate is about to go on another booty hunting adventure. We are on to our next destination, which is a remote island that is believed to have plenty of buried treasures and we're about to find them. Don't worry ye hearties as me didn't forget about yet app review. Since we still have several hours before we reached our destination, let me tell ye about this app called Perfect Slices by SayGames.
Bright and high-quality graphics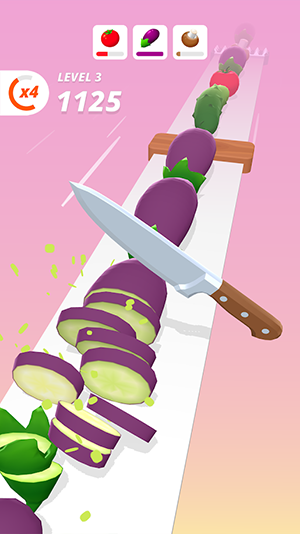 You will be cutting different vegetables such as carrots, cucumber and eggplants. You must avoid the chopping boards to continue playing and reach the end to complete the level. The entire interface is simple with a light-colored background that changes on each level. Although the level changes, the gameplay and difficulty seem to be the same. The only thing that change aside from the background color is the knife used. There's also a part where you will cut gold bars instead of vegetables. The graphics may not be complex, but it's still high quality.
It's a fun time-waster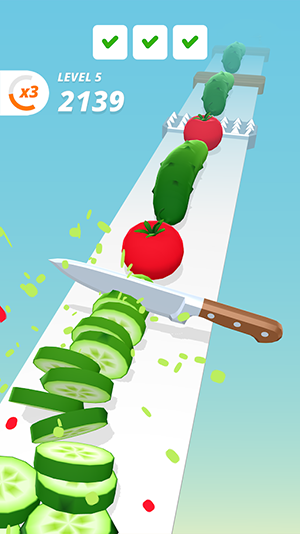 It is repetitive since you will be doing the same thing and seeing the same things throughout the game. If you are looking for a variety, it may not satisfy you. As mentioned, it can be repetitive. You will be seeing the same thing and playing the same gameplay for all levels throughout the game. However, if you are looking for something to keep you busy or something to do to waste time, it's something that will keep you occupied. It's more of a game that you would want to play every now and then but not all the time.
Ads can be frustrating
Perfect Slices is a free to download app. You can also keep playing it without the need to use real money. However, there are several advertisements that can affect the overall game experience. Even when you click to close the app or choose not to view them, there are some that will still play.
The pros
The app is free to download and play. You will not spend anything to keep playing. Graphics is simple but high-quality. It will keep you occupied, especially when you want to waste time.
The cons
The game is repetitive. Even if there are different levels, you will not really feel that there is a change in the difficulty level. Even the vegetables that you will slice are the same. There is no variety so you can get bored after some time.
The verdict
Perfect Slices is simple to learn. It only requires holding on the screen and letting go. It's free to download so you will not spend any money to try the game. There are various levels but the game can feel the same throughout. If you are the type who is looking for a variety or an increase in the challenge level, this game doesn't offer that. It's more for those who are only looking for a game that will kill time.