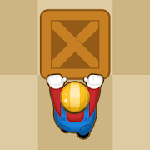 Ahoy there me hearties! Yer app pirate is here again ready to take another booty hunting adventure around the seven seas. I remember one of the treasure hunt that the crew and I recently had. There was a maze that we had to face and tried to get out from. It was a bit tricky but as ye would expect from these experienced and smart buckos, we made it out and we found many booties! The app that I will share with ye lads and lasses today also has something to do with a maze. But instead of collecting booties, ye will be moving boxes in order to move to the next level. The app is called Push Maze Puzzle by Mobirix. Avast ye me mateys and let's start with the review.
Simple But Clean Graphics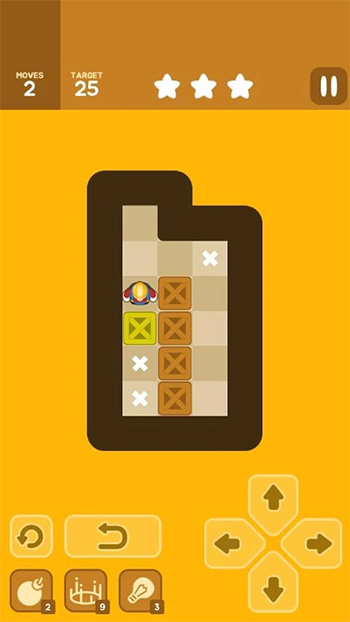 The game doesn't have over the top graphics. It's simple but well done, making it still refreshing on the eyes. Most of the color that you will see on the background is yellow-gold. On top are the number of moves you made and your target moves to gain three stars. Then there's the main game window on the middle of the screen that has a brown border. Inside it is the main character, the boxes that you will move, and the "x" symbols that will tell you where you should place the boxes. Below that are the reset and undo buttons, power-ups, and the controls that will let you move up, down, left, or right.
It's Nostalgic
This is a classic game that has been available on video games several years back. If you have played this game before when you were a kid, you will feel nostalgic. It will bring back happy memories of your childhood. It is like being transported back to that time, but instead playing on the family computer, you are playing it on your mobile device.
Easy to Learn But Challenging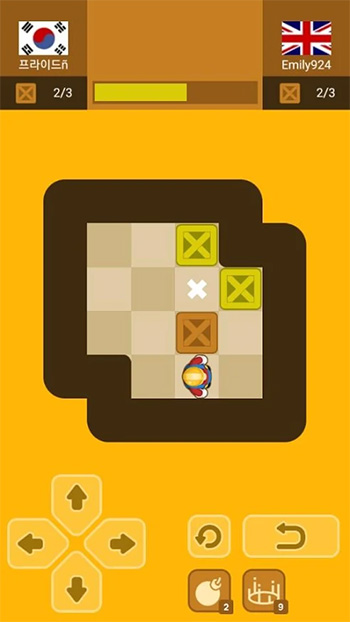 Whether you have played Push Maze Puzzle before or not, it is not rocket science to learn how to play it. The main goal is to put the boxes on their designated places within a set number of moves. As mentioned, there's a control at the bottom that would let you move the character left, right, up, or down. This is easy as you can see what you need to tap on the screen, although there are some players who may be used to swiping their screen. Nevertheless, you'll get used to it easily.
Free But With Ads
This app can be downloaded for free. However, like most free games, you can expect advertisements to pop-up and with this one, it's done after every level. While this is acceptable, it can be quite annoying that the audio of the ads still play even if you have turned off the music of the game.
The Ups
Push Maze Puzzle is free to play. It's nostalgic for those who have played the game in their family computer in the past and it's easy to learn even to new players. There are several levels to keep you occupied and challenged.
The Downs
The only drawback of this game is the audio of the advertisements still playing even after turning off the sound of the game.
The Verdict
Push Maze Puzzle has a minor drawback with its advertisements' audio still playing even after turning off its sound. However, it is an interesting game in general. It's free, easy to learn, nostalgic, and it will keep you occupied for a long time.