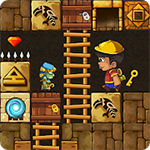 Yo, ho, ho, and a bottle of rum! Here's yer favorite friendly app pirate ready to give ye another doze of yer most awaited app review. This bucko was born for adventure. It gives me and the crew excitement when booty hunting and fighting to survive and make it back to the ship and me parrot pet alive. Har, har, har! 'Tis why one of me favorite game genres is adventure too. For this app review, I will share with ye more about the game called Puzzle Adventure – Underground Temple Quest by Puzzle Tap.
Cute Graphics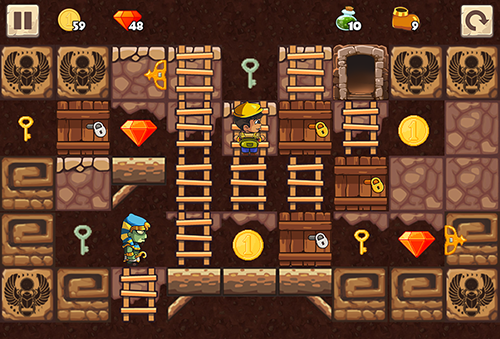 Puzzle Adventure is a free game that has adorable graphics. It may have advertisements, but they are not a big issue, especially they are not intrusive. The various levels of the game have different background, which deserves thumbs up because this adds life to the game. You won't get easily bored because you see something different on each game level. However, the game window can be a bit small so you may have to manually adjust the screen so you can see what's going on with the game properly.
Easy to Learn
The game just requires tapping on the screen to get the keys, diamonds, and other items, while avoiding the obstacles and enemies. The enemies are moving, as well as the sharp and pointed obstacles that need to be avoided to prevent the game for ending. The main goal is to reach the exit to go to the next level.
Hundreds of Levels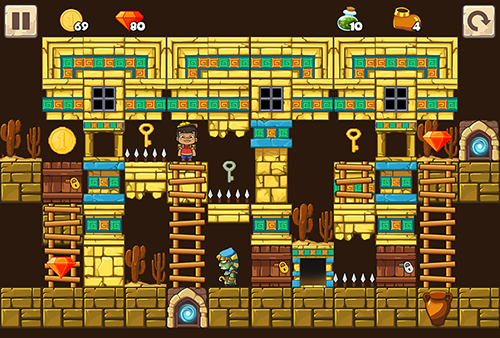 There are hundreds of levels to complete, which means that you will have hours of playing time. It also automatically saves on the last level that you played so you don't have to start all over again. However, since the general gameplay is the same, although the difficulty level may change, you may still lose interest in playing after some time. This is more like of a time waster that you would enjoy playing every now and then, and put down after completing some levels.
Issues on Controls
While the advertisements are not a big deal because they are not intrusive, the issue is with the controls. There are times that the character doesn't move to the area where you want it to go, which could cause the game to end.
The Ups
Puzzle Adventure is a free game so you can download and play it without spending anything. It also has cute graphics and the background changes on its levels. The app has hundreds of levels and according to its page, it is regularly being updated so new levels are expected to be added. It is also easy to learn.
The Downs
It has advertisements, although this is not a huge drawback especially the app is free and the ads are not intrusive. The bigger issue is that controls may not work smoothly all the time.
The Verdict
Puzzle Adventure – Underground Temple Quest may require enhancement when it comes to its controls, but overall, it's still a fun game to try, especially if you are into puzzle adventure games.