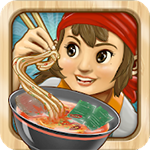 Ahoy there me lads and lasses. Me and the crew were craving for ramen so we made that for our dinner for tonight. We had a brief vacation  in Japan several months ago and we had the best ramen on one of the stores there! Ye know how this bucko is so good in the kitchen, aye? I was able to make a ramen that's as close to the taste of the ramen that I was talking about. I remembered that ramen after seeing this app called Ramen Chain by Touchten Games. This is the app that we will review for today. Batten down the hatches and let's begin with the review.
Adorable Graphics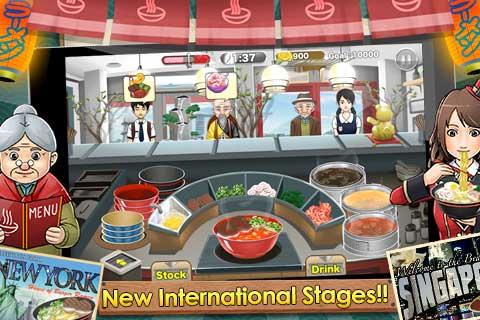 The graphics is in 2D. While many games are now made in 3D, this one still looks fantastic and it has its charm to it. It will remind you of the earlier Japanese anime that you may have been watching on TV or film. It is also detailed as there are different customers to serve, which also have their own characteristics. Although it is just offering ramen and drinks, there are over 30 kinds of ramen recipes to unlock and serve to clients, as well as different drink choices.
Controls Work Well
This free game requires dragging ingredients to the bowl and then also dragging the bowl to the customer to be served. The bowls and ramen ingredients are organized and have a nice spacing so it is not difficult to select the right item to use. Dragging also doesn't have any problem, although it can be challenging for those with smaller screens.
Lots of Content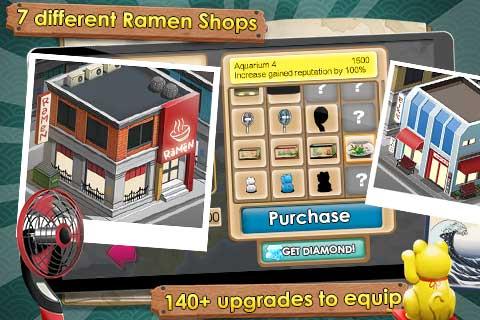 The app has a story line that adds to the game experience as you don't just serve ramen and drinks, but there is also a story to follow. Moreover, you will not just be operating one ramen shop, but you can unlock more ramen chains. As mentioned, there are also over 30 ramen recipes to unlock, which means that you have more options to serve to your customers.
Has the Right Level of Challenge
There is a tutorial at the beginning of the app so you would know the basic gameplay. The first few stages are easy to complete. Aside from the noodles and broth, you only have beef and eggs to use for your ingredients, and 3 options for the drinks. There are also 3 different bowls to choose from. You must serve the order of the customers with the right bowl and ingredients. There is a specific amount that you need to achieve per level and you only have a limited time to reach this. The game gets challenging on the higher levels as your target gets higher and there are also different ramen recipes to serve.
Thumbs Up
Ramen Chain is free to play. It has lots of content to unlock including new ramen chains and various ramen recipes. The graphics is fantastic and it has the right level of challenge, which can get more difficult on higher levels.
Thumbs Down
The only drawback of this app is that it can be difficult to drag the ingredients and the bowls on mobile devices with smaller screen.
The Verdict
Ramen Chain is a nice cooking and restaurant app to try. You may have challenges in dragging ingredients if you have a smaller screen, but overall, this is fantastic game to try. It has lots of content and it offers the right level of challenge.