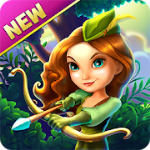 Robin Hood Legends Review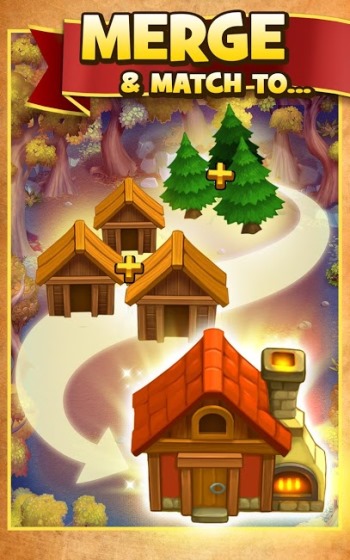 Ahoy there me hearties! It's nice to see ye buckos again! Me and the crew has just been in another fantastic booty hunting adventure and it was a success! The area that we explored had many treasures buried and we were able to take a lot back to the good old Jolly Roger. We are just regaining our strengths but we are definitely coming back in the morning to find more treasures. Ye know very well that we are friendly pirates, so we do not just keep the treasures we find to ourselves. We also donate to less fortune. Aye, ye may think that we are like Robin Hood! Speaking of which, the app that I will share with ye mateys today is a merge 3 puzzle game called Robin Hood Legends by Big Fish Games. Listen up as we're about to start the review.
A Puzzle Game with a Twist
This free app is a merge 3 puzzle game. When I first saw the title, I thought that it would just be like the other typical match 3 puzzle games that I played; the usual connect three same objects and they will disappear on the game board thing. However, this came as a surprise, and in a good way that is, because it wasn't completely like that. There are goals in each level and you have limited moves to reach them. However, instead of the objects being on the game board and matching them, you will be given one object each and you have the decision on where to place them. Place same objects next to each other and they will transform into a new object. This is more interesting as you have to strategize on where to place them in order to come up with the objects that you require.
Charming Graphics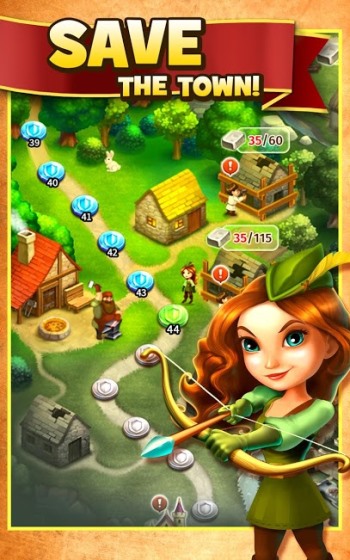 The game will remind you of the medieval times. There are forests and castles, as well as royal guards. You may also be thinking that Robin Hood is a boy, but in this game, it is a girl. There is also a story with dialogues among the characters; so you are not just playing, you are also unleashing what would happen next. There is also animation like the enemies burning down some establishments and the poor people getting the gold coins collected by Robin Hood.
Challenging But Not Impossible
The levels are challenging because you need to think carefully on where to place the objects in order to come up with the things that you need to collect to move to the next level. Your moves are also limited and the objects that are given are random so you don't really have a choice on what to use next. This gives the right level of challenge, but it's still not impossible to complete the level and move to the next.
The Ups
Robin Hood Legends is a free puzzle game that comes with a twist. It's challenging but the levels are not impossible to complete. It also has amazing graphics and it has a story line.
The Downs
One minor drawback is that you are only limited to five lives, and you have to wait for some time to replenish lives, request for life, or make an in app purchase in order to play again.
The Verdict
Robin Hood Legends is a merge 3 puzzle game with a twist. If you are into puzzle games, this is a definite must try because it's free, challenging, and it has something new to offer.