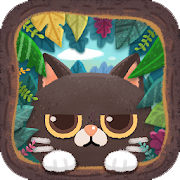 Ahoy there me lads and lasses! Yer friendly app pirate is here again, ready to go with the buckos to another adventure around the seven seas. Me parrot pet has been wanting to play, so I made extra time today to do that. I've always had a soft spot to animals, especially me pets. While the parrot is me most popular pet, me also have other pets, although me left them home for mum to take care of. Me seldom go home so that's the only time that me see them, but they still know me. I have three cats at home, so seeing one when we had a quick stop on land, made me miss them. Because of that, me played this game that had cats in it and I will share it with ye me hearties. It's called Secret Cat Forest by IDEASAM.
Beautiful graphics and animation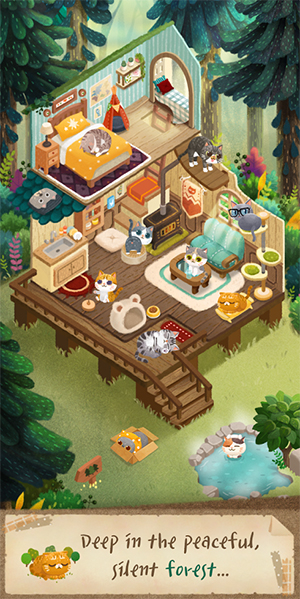 Seeing the graphics of the game is already relaxing. There is a cabin in the middle of the forest that you will decorate to make it a home for cats. There is also a river where you can go fishing. The fishes that you will collect will be munched by the cats that will visit the cabin. You can also tap on trees to collect woods, which you will use to build furniture. It's a casual game that you can put down and pick up anytime as there is no specific goal that you need to reach. You can play at your pace. The cats also look cute with their movements and they will be added on your collection when they visit you.
Free and ads are not pushed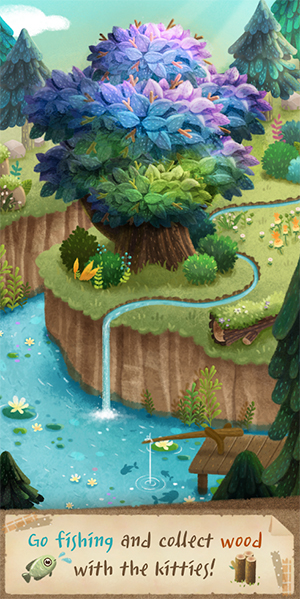 The game is free to download. Although there are video ads, it's up to you if you wish to watch them or not. Watching them will give you more woods that you can use for unlocking furniture or prizes that you can win. You will not be bombarded by ads, which is usually the problem on free games. You can keep playing without feeling that you are being forced to make an in-app purchase.
It lacks customization option
There is a list of things that you can place in the forest cabin and they would require a specific number of woods so you can use them. However, you don't have a choice on where to place them. For instance, you selected a couch, it will be automatically placed for you. There is no way to move or rearrange them, which could have been more fun.
Thumbs up
It's free without pushy ads. The game also has beautiful graphics and it's fun and easy to play. You can also pick it up or put it down anytime you want.
Thumbs down
There is now option to choose where to place the furniture or items in the house, or rearrange them.
The verdict
Secret Cat Forest may have the drawback of not being able to move the furniture, but overall, it's a fun game to play that you can pick up anytime you want. You can play at your own pace and it's relaxing to see the game environment, and how the cabin improve as you unlock more furniture.