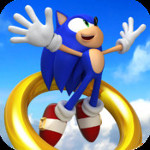 Well, blow me down! This old buccaneer would never have guessed that, Sonic, the hedgehog be makin' a comeback. Aye, believe it or not, this pirate has had a lot o' fun times with the blue, lighnin' quick hedgehog back in the day. This pirate remembers his old Sega, where he first fell in love with Sonic. I be purty glad that Sonic is back and in me smartphone. Here is me review of Sonic Jump.
Sonic Jump is the newest release from Sega. It was officially launched last October 2012 and was recently updated and patched November 2012. Today, the game is, hands down, just a brilliant platformer. Aye, you may be shocked to know that the days when Sonic was all about speed is over. No more running like hell. Today, Sonic is all about solving puzzles through platform jumping.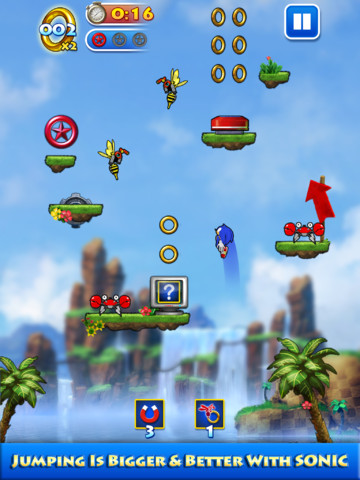 It's a Typical Platformer
Like every other platformer, the lead character, Sonic in this case, jumps without the need for you to tap or swipe. All you really need to do is tilt your phone or tablet the right way and at the right time and Sonic will do everything else. Now, should you miscalculate a jump and find your adorable Sonic plunging to his death – just close your eyes as he will most probably end up that way. So, be careful with the tilting.
Aside from the difficulty of guiding Sonic through jumps, he will encounter a lot hurdles and obstacles as he goes higher up. Traps like spikes, rockslides, and saws are just some of those. He may also go head to head with robots that seem to be hell bent in killing him. Well, it is your duty to help him through all those obstacles as well, because if he gets hit by any of those, you will lose precious rings. And if you get hit again, say bye bye to another of Sonic's lives. Make sure that you keep a lookout for power ups and other special items that could either demolish the traps and enemies in poor Sonic's way or could give Sonic enough energy to withstand more attacks or even make a daring, highly improbable jump to safer grounds.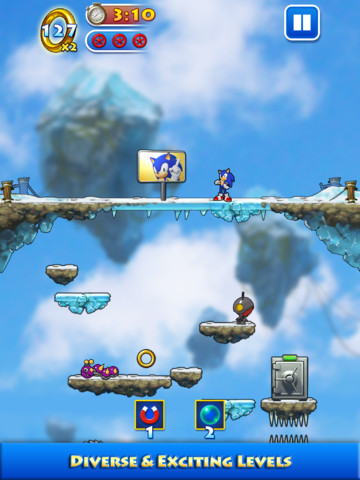 Two Modes for More Gaming Fun
Sonic Jump features two modes of play. The first is Story Mode, where you will be privy to the back story of Sonic's predicament and what he has to do to solve his problem. This mode has an ending and your primary goal is to finish it. Now, as you go through Story Mode and access new Worlds or levels, you will automatically unlock those same areas in Arcade Mode. Arcade Mode is the gaming mode where you can take charge of Sonic in an endless stream of gameplay. Choose an unlocked world and get ready to challenge yourself endlessly. Just hope that Sonic doesn't tire out, ok?
Solid but Difficult
The game is well-designed. What can you expect from Sega, right? The graphics are superb, the gameplay is good, and with the newest update, the game content is huge and quite detailed. The only real downfall of this game is in the level of difficulty you and Sonic will encounter. There are runs where you will encounter obstacles that will make you insane, in the literal sense of the word. Fortunately, that is what makes this mobile app adorable and fun. So, if you like Sonic or are a sucker for platformers, this should be a no brainer, regardless if you are sporting an iPad or some weak Android-based device.