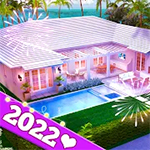 Ahoy there me lads and lasses! It's me again yer favorite app pirate ready to give ye another app review. I know that ye hearties can't wait to read another review of an exciting app, so I will not keep ye waiting. I will share with ye something that I recently played. It got my attention because it had both game genres I liked, which were match 3 puzzle games and home decoration. Ye know by now buckos how much fun I have when I play those games. So without further ado, let me tell ye more about this app called Space Decor:Dream Home Design by Zymobile Limited.
It's free and rich in content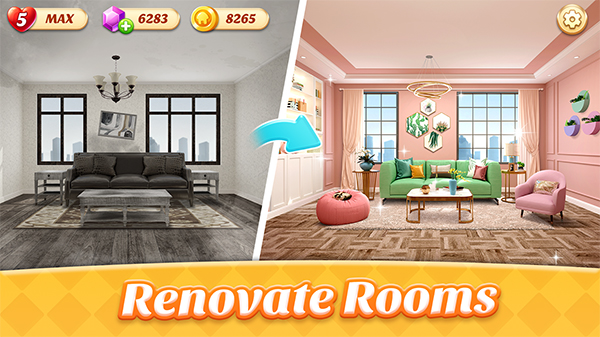 The game is free to download, so you don't need real cash to get it. Playing is also free. It comes with in-app purchase but it's up to you if you want to get them or not. There are several places waiting for you to decorate. It also has several levels of puzzle games that you need to solve.
It's a combination of two games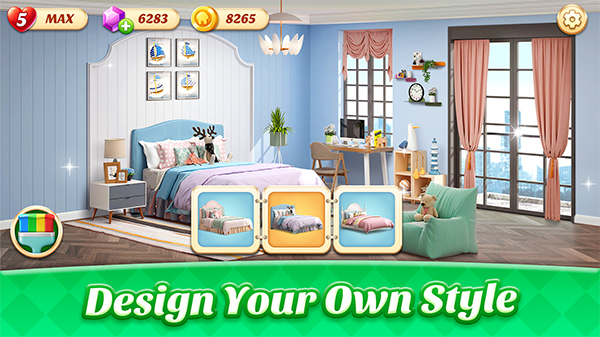 As mentioned, it's a combination of match 3 puzzle game and a home decoration game. If you are into these two types of games, this app is a treat because it offers both. The puzzle game is your typical match 3 game where you need to match 3 or more objects to remove them from the game board. You need to match a specific number of objects to clear the level, which will earn you coins that you can use for decorating the house.
It has gorgeous and realistic graphics
The game uses high quality 3D graphics. The objects in the puzzle game are colourful and they are an eye-candy. You will also be amazed with the realistic objects when designing the homes. You also get to decorate the different areas like the bedrooms and living rooms, so it would feel like you are really decorating a house. Although there are only three options for each decoration, they are worth it, because they also look amazing.
Some options need more coins
As mentioned, you will earn coins by playing the match 3 puzzle games, and you can use these coins in decorating. Since some of the option are expensive, you may need to play several match 3 levels to earn more coins and afford the said options. It could feel that the progress of the house decoration is slow at this point. It can be frustrating, especially if you like the decorating part more than the match 3 puzzle.
The good
It's free and it has several levels to complete. It combines puzzle and home decoration games in one app. The game has gorgeous graphics that look realistic. It is also content rich.
The bad
Some of the options for decorating the homes are expensive so you need to play several puzzle levels to earn enough coins.
The verdict
You may need to earn more coins to afford some of the decors, but Space Decor:Dream Home Design has several great sides that could make up for this drawback. It's free and fun, and the graphics are fantastic. You will enjoy decorating homes, and get challenged in solving puzzles.