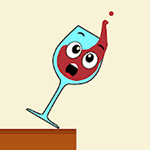 Ahoy there me lads and lasses! Aside from booty hunting, one of the things that me love to do is play puzzle games that will make me think. It's something that will exercise me brain, which also helps when finding treasures as it makes me make better decision through the clues that I see around. Me know that ye hearties feel the same. 'Tis why I will give ye another review of a puzzle app. The title of the game is Spill It by Tastypill. Batten down the hatches me hearties as we begin with the review.
Average graphics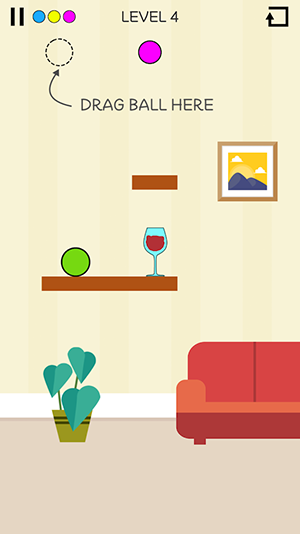 The graphics of the game is not one of the best that you will see. It's more like the ones that you will see on children's book. The background of the game is like the inside of the house, although the objects that you will see on the levels are minimal. For instance, one level has a wall clock, chair, and a glass, while another one has a sofa, plant and picture frame. The balls have different colors, with others also having prints on them.
It will require you to strategize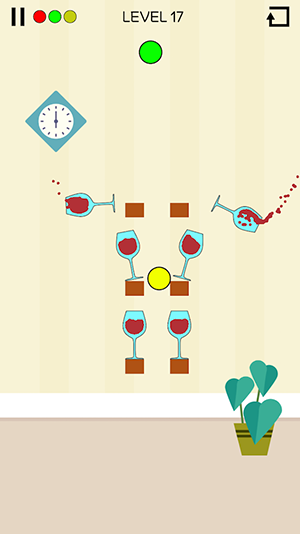 The goal of the game is to spill the content of the glasses by hitting them with the balls provided on each level. There are levels that only have one ball, with others having two or three. On other levels with more than one ball, you need to time when to drop the other balls and where to do that to ensure that you take down all the glasses. Some levels are easy to complete, while others are more difficult to solve.
Hundreds of levels available
There are 400 levels of puzzles to complete, giving you several hours of game play, depending on how long you play. You can get three stars on each level, depending on how well you did. You can go back to the levels that you already played to retry playing them and getting three stars on those where you got only one or two stars.
There are many advertisements
Spill It is an app that is free to download and play. While it is expected that it will have ads since it's free, it is too much and it affects the overall game experience. Some of the ads cannot be skipped so you have to wait for it to finish before you can move to the next level. Moreover, even when you make an in-app purchase for an ad-free version, there are still advertisements that still show up.
The pros
Spill It doesn't cost anything to get. It has hundreds of levels and you can go back to those that you have already completed to try and get complete three stars. It will make you think as you need to strategize to hit the glasses and spill the drinks.
The cons
The graphics is not that impressive and can do some improvements. There are also advertisements that cannot be skipped, taking the experience off the game.
The verdict
If you love puzzle games and you don't mind watching video advertisements, Spill It! is something to add on your list. It will keep you occupied with the 400 levels that it offers.