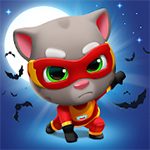 Ahoy there me lads and lasses! Here's yer friendly pirate, taking a rest after a tiring, but exciting dive at the bottom of the ocean. We found an old sunken ship that hid plenty of wonderful finds. Before this old salt go to sleep and rest, let me give ye another dose of app review that me know ye are waiting for. It's a review for the app called Talking Tom Hero Dash by Outfit7. Avast ye and let's begin.
Your favorite Talking Tom characters in action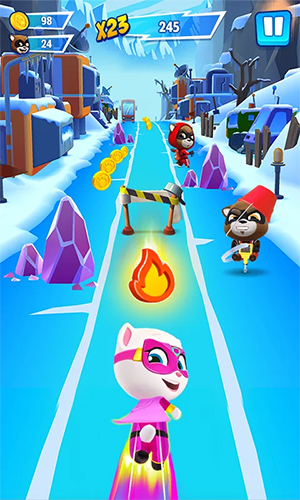 If you are a fan of the classic Talking Tom app where the character will repeat what you say in a cute voice, you will be seeing the same characters but this time in action. Like the usual endless runners, you need to avoid obstacles and collect coins, and go as far as you can. What makes it different is that you will also be fighting raccoons along the way. Plus, there are also boss fights that are not always present in similar games. Some of the characters available are Talking Tom, Angela, Ginger, and Ben. The familiarity of the characters give that added sense of enjoyment because you see them in a different light. Instead of just repeating what you say, they are moving and running, and they are in a different environment too.
Gorgeous graphics and excellent animation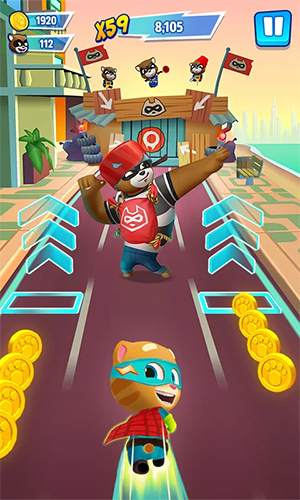 The graphics of the game is superb. It has vibrant and crisp colors. There are different settings so you will see different background like the street and skyscrapers. It adds fun to the game and it prevents it from easily being boring because of the variety of things you see. The developers also did well with the animation because the character will not just be running, but it will dash, swing, and perform various actions. There are also different effects when you use power ups. That makes the game more exciting and interesting.
Free but with plenty of ads
You can get the game for free and it comes with an in-app purchase. It's up to you if you want to buy using real money because you can still keep playing without doing so. However, there are plenty of ads. Aside from the banner ads that show in the game window, there are advertisements that pop-up when the game ends and even when in the middle of the game.
The good
Talking Tom Hero Dash is free and it has fantastic graphics and animation. There are different characters to unlock and backgrounds too.
The bad
It has plenty of ads and some show up even while in the middle of the game.
The verdict
Although the game has plenty of ads, considering that it's free and fun, it's still an app that is worth adding in your list. Get Talking Tom Hero Dash especially if you are into endless runners and you are also a fan of Talking Tom. You will get the best of both worlds.